Kids and Dogs
Doggie Data
I thought this was one of the most brilliant and impressive ideas I had ever seen with regard to not yielding to "kid pressure": Richard's teenage daughters were bugging him to get a dog. He said to them, "No problem, but this is what you have to do first. For two weeks you must stand outside four times per day for 15 minutes, no matter what the weather. If you complain or try to pass the job onto someone else—no dog." After about three days, the kids started complaining and tried to shirk their responsibility. Needless to say, Richard did not get a dog.
Canine Caveats
An absolute cardinal rule: never buy a dog for a child; buy a dog for yourself. If you're not willing or able to assume 100 percent responsibility for that dog, then don't get a dog!
Pooch Pointers
When dogs play, they body slam, growl, bite, and rearrange furniture. Dogs do not play Parcheesi. Puppies need vigorous play in order to develop into physically and mentally healthy dogs. While you can limit the venues and rules of the play, you must allow plenty of opportunities for it. If you get a puppy and want it to just sit in the corner and do nothing, he will never grow into a well-adjusted dog.
Say you're watching television and you see this really cute commercial with a young child sitting on the ground, giggling, with a million puppies climbing all over him. The puppies are having fun and the kid is having fun. You look over to your spouse with tears in your eyes and say, "Honey, let's get Lily a puppy."
Think first, long and hard, and then think again. Then think one more time. Kids and dogs don't generally go well together. Puppies and dogs have sharp teeth and kids have delicate skin. Furthermore, moms are usually busy with kid activities and don't have time to properly train the puppy. This article explores all the issues involved when kids and dogs interact.
A Match Made in Heaven?
If your child is very young, you'll need to manage both the child and the dog a great deal, making sure their needs are both met. As the puppy grows—and grow they do, much faster than we slow-developing primates—the adolescent dog may become too big and overwhelming for your still-tiny child.
If you have older children, as the puppy grows, the kids will take less and less interest in her—forget that they said, "I promise I'll take the dog out, feed her her dinner, clean up her messes. I'll do everything! Please, pretty please!!"
You and I both know how long that will last. In about two days you'll start to hear, in a plaintive whine: "Mom, the puppy is biting me (stealing my toys, pooping on my homework, eating my homework)," "I have to do my homework so I don't have time to take her out," and so on. When you get a dog, you're acquiring a living, breathing being with huge needs. It's incredibly rewarding to raise a puppy, but be aware—it's not for the faint of heart.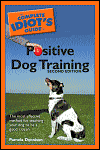 Excerpted from The Complete Idiot's Guide to Positive Dog Training © 2005 by Pamela Dennison. All rights reserved including the right of reproduction in whole or in part in any form. Used by arrangement with Alpha Books, a member of Penguin Group (USA) Inc.
To order this book visit the Idiot's Guide web site or call 1-800-253-6476.