Kids and Dogs
Feeding and Housetraining
Pooch Pointers
Some people "puppy proof" a room and then leave their pup loose in it, totally unsupervised. Such attempts generally fail. Think putting your puppy in a completely tiled bathroom is safe? Think again! You may find that he figures out how to chew the door or eat the linoleum floor.
What does it mean to add a puppy to your household, along with your existing children? First, it means feedings three times per day, and cleaning up messes several times per day for anywhere from a month or two to a year. Some dogs are housetrained almost instantly and other puppies or dogs "just don't get it."
Since punishment will make the housetraining process only harder, there's nothing much you can do to "speed up the process." Just like toddlers, some puppies have the neurological development to "hold it" at an earlier age than others. You may get lucky and get one of the dogs who is housetrained at 16 weeks, or you may get one who's simply incapable of being reliable until 10 or even 12 months of age.
Playtime
Be aware that the puppy's capacity for play is going to be a lot more than yours. She's going to be just like a pesky little kid who never wants to stop. This is normal and something that you, as the adult, need to accommodate.
Proper Supervision and Doggie Daycare
It's a fact of life that puppies and dogs bite—it's natural and it's how they interact with their world, especially in the beginning. Human toddlers also go through a stage where they learn about their environment by putting things in their mouth.
You will have to constantly supervise any activity that includes children and your dog so that no one—dog or child—gets hurt. There will be accidents no matter how careful you are, and there will be some items that get chewed and some skin that gets nipped.
If you work full time, you must find either a doggie daycare or a dog walker to come in several times per day. It's not unthinkable to get a puppy while you work full time, but it's as cruel to leave a puppy all alone all day as it would be to leave a tiny infant alone all day. If you ask around, you'll find someone in your neighborhood who is available during the day and would be willing to baby-sit your pup. You can also find a doggie daycare for the first few months you have the puppy and then gradually leave the dog home for longer periods of time, while having a dog walker come in a few times.
Although crate training is essential, you can't expect a pup to stay in the crate all day. I recommend getting an exercise pen, also called an "X" pen. (You can get a pen from one of the pet-supply mail-order catalogs for approximately $30 to $60, depending on the size.) You can put "safe" toys in it. If you're busy when you get home, at least you can put the puppy in it and she can move around a bit without getting into any trouble.
If you decide to get a dog when you have children, please read Teaching Your Children to Handle Dogs.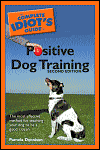 Excerpted from The Complete Idiot's Guide to Positive Dog Training © 2005 by Pamela Dennison. All rights reserved including the right of reproduction in whole or in part in any form. Used by arrangement with Alpha Books, a member of Penguin Group (USA) Inc.
To order this book visit the Idiot's Guide web site or call 1-800-253-6476.