Teach Your Children How to Handle Dogs
Okay, so you've decided that you do have the "stuff it takes"—the dedication, wherewithal, nerves of steel, patience of a saint, no carpeting, stock in a paper-towel company, and the determination—to train this dog from day one, so that he never ends up in a shelter. You've done extensive research and found a highly recommended breeder and trainer, and you bring home the puppy of your dreams (not, one hopes, the puppy of your nightmares). Review Kids and Dogs if you're still not sure.
Children as young as three and a half years old can be taught to train the dog along with you. This teaches the child responsibility, maturity, appreciation, and affection for a fellow creature. Having your child train your dog teaches the dog that kids are good things, but not chew toys or littermates. "The family that trains their dog together, enjoys their dog together."
R.E.S.P.E.C.T.
You can, should, and must train your children to respect your new dog as a living, breathing creature and not as a stuffed animal that can be replaced. Any child of any age should be taught to show consideration for the new family member.
If you can, bring your well-mannered children to puppy class and beginners class and have them train along with you. If the school doesn't allow children, teach them at home the exercises you learned in school.
Do's and Don'ts
Remember that TV commercial you saw with the happy puppies and giggling child that started this whole venture? Commercials are not real life, and there are some very real do's and don'ts that have serious ramifications if you mix them up.
Pooch Pointers
Please try not to look at training your dog as a chore. This should be a labor of love and just as important, if not more so, as taking your kids to soccer practice. The dog will learn many skills needed to make him a great adult, and you'll also have the family pet of your dreams.
Do's:
Supervise kids and dogs every second of every day.

Pair positives for the dog when the kids are around.

Reinforce your children for being nice to the dog.

Look for opportunities to reinforce the dog for tolerating rough handling by your kids.

Teach your kids to be calm and gentle.

Look at each new child you meet as a training opportunity, to continue the desensitization process.
Don'ts:
Never let your dog discipline your child. Watch your child to make sure he or she isn't being obnoxious to the dog. Watch your dog for signs of stress and call them away from each other if your dog gets nervous.

Never let your child discipline your dog. Remember that associative learning is happening all the time. We certainly don't want your dog to have bad feelings toward your children.

Never leave your child and dog unsupervised.

Never let your children overstimulate the dog. Running around screaming in a high-pitched voice can actually stimulate prey drive. It's not fair to ask the dog to be calm under those circumstances unless you systematically desensitize him to screaming kids. Put the dog away if you're too busy to train him at that moment to accept the children.
Is it doable to have children and a dog? Of course it is, but don't bend to kid pressure or the American Dream pressure of having two and a half kids, two cars, a house, and a dog. Get a dog because you want one and have time for it for the next 15 to 17 years.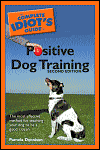 Excerpted from The Complete Idiot's Guide to Positive Dog Training © 2005 by Pamela Dennison. All rights reserved including the right of reproduction in whole or in part in any form. Used by arrangement with Alpha Books, a member of Penguin Group (USA) Inc.
To order this book visit the Idiot's Guide web site or call 1-800-253-6476.