Train Your Dog Not to Jump
Say your dog jumps on people who come to the door. Dogs jump to greet people—it is a natural submissive greeting behavior and they have to jump because we're taller than they are. Oddly enough (from a human standpoint), the dog thinks that, by offering these submissive behaviors, she's being very polite.
Reactions to Jumping
Pooch Pointers
Contrary to old-fashioned beliefs, jumping up is not a sign of dominance or aggression.
Half of the people will pet the dog, reinforcing the dog for jumping. You've heard them: "Oh, it's okay; I love dogs." The other half will yank the dog down, squeeze her paws until she is screaming in pain, or knee her in the chest. Or you may yank the dog down or yell at her.
All of these reactions reinforce the dog for jumping—including the negative reactions. Punish the dog for jumping and she may feel the need to jump even more in a submissive, frantic manner to appease your anger, increasing the cycle of jumping on people. Or the dog may decide that people are dangerous (since so much punishment happens around people) and the jumping may intensify into fearful biting behaviors or extreme shyness.
Jumping to Solutions
Doggie Data
Mark came in with his five-month-old Boxer, Merlin, and his four-and-a-half-year-old daughter Jean. Merlin was body-slamming Jean to the ground on a daily basis. Within one hour, Merlin stopped knocking Jean over, and it has lasted two years so far. Was it magic?
Nope—I just taught Jean to use head turns, body turns, and walking away slowly to reinforce Merlin for being on the ground. The relationship between the two has improved so much so that now Jean is the main trainer of the dog! If a four-and-a-half-year-old child can do it, so can you!
These are some of my favorite options that you can adopt to teach your dog that "four on the floor" is more rewarding for her:
Avert your eyes and turn sideways as she's about to jump—you can always see the signs in their little eyes or in their bodies! If you miss the signals and the dog jumps, still turn sideways to deflect the dog. Then once she has four on the floor, wait passively for five seconds, ask her to "Sit," and then reinforce.

You can also walk away slowly (a calming signal) and reinforce the dog for staying on the ground. Throw treats on the floor to further reinforce that "down there" is better.

Become a tree stump. Don't move. After all, how reinforcing can a tree stump be? Don't look at the dog and don't talk to the dog or push her away. Trees don't have eyes, ears, mouths, or arms. Just stand there. She'll eventually get down. Wait for five seconds, ask her to "Sit," and then reinforce.

Teach the dog to jump on cue by encouraging her to jump and saying "Up" when she does. Give her a quick pet and murmur "Good." Then look away and become a stump. When you feel the dog get off, say "Off" and have a party! Give her the jackpot of her life—tons of food, calm petting, praise, and lots of attention. Repeat a billion times. She'll soon learn that the reward for not jumping is infinitely better than the reward for jumping.

One of my favorite options is to teach the dog to "Go visit." "Go visit" means that on your cue only, the dog goes up to the person you're pointing to and lies down! (Lying down is incompatible with jumping.)

If your dog jumps wildly on people coming to the door, make the doorbell a cue to go to her crate. Or teach the dog that a person approaching is a cue to sit or lie down, and heavily reinforce it.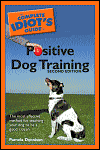 Excerpted from The Complete Idiot's Guide to Positive Dog Training © 2005 by Pamela Dennison. All rights reserved including the right of reproduction in whole or in part in any form. Used by arrangement with Alpha Books, a member of Penguin Group (USA) Inc.
To order this book visit the Idiot's Guide web site or call 1-800-253-6476.