Consistent Dog Training and Variable Reinforcements Are Key
When athletes train, they are consistent and dedicated. They know that if they put off training, they'll lose their skills. Dog training is not like riding a bike—your dog will forget his new behaviors if they aren't practiced. Give yourself a break and you will lose the desire to continue.
While you do have to consistently set aside some time each and every day to spend some quality time training your friend, you should vary the frequency and type of reinforcement given during those sessions. But don't confuse "consistency in training" with being variable and unpredictable in how you reinforce.
An Exercise in Creative Training Sessions
If it's hard for you to be creative in how you set up your training sessions, try this: write 5 to 10 or more behaviors on separate slips of paper. Here are some examples of desirable behaviors to use:
Sit

Backups (make different slips each for no distractions, mild distractions, and lots of distractions)

Sit stay (10 and 20 seconds)

Down

Loose-leash walking (with no distractions, mild distractions, and lots of distractions)

Down stay (10 and 20 seconds)

Shake paw

Sit politely for petting (by you and by someone else)

Roll over

Settle (with and without handling)

Door etiquette in the house, car, and vet's office

Come (with no distractions, mild distractions, and lots of distractions)

Stand

Stand stay (with and without touching)
Fold up the slips and put them in a hat. Every day, pick three behaviors out of the hat and that's what you work on for that day. At the end of the day, put those slips back into the hat to be used again. You can do the same thing with your list of reinforcers. Pick a few out of the hat and those are how you'll reinforce your dog for that session. As your dog's skill level goes up, exchange the slips for more difficult behaviors. These don't have to be all that complicated—just pick things that will stimulate his brain. Here are a few examples:
Hide a treat or toy in a blanket or towel and encourage the dog to "find it." This encourages him to use his nose—great for scent-discrimination exercises for more advanced training.

Show him a toy, tell him to stay, and then hide the toy (in plain sight at first). Then release him to "find it." You can gradually make your hiding places harder and harder.

Teach him to touch his nose to a target—such as your hand or a plastic lid. Nose targeting is great for many things—it teaches the dog to turn his head away from another dog to avoid potential problems (head turning is a calming signal). Targeting a plastic lid is great for when you're teaching some of the obstacles in agility training.

Get a Kong toy and fill it with gooey things and some hard treats that are slightly bigger than the opening. This will give him a little mental puzzle to keep him happy and busy.
There are many simple ways to add enrichment and variability to your dog's life without going too crazy. You can even teach him service-dog behaviors, such as picking up keys—or better yet—finding keys, closing cabinet doors (I wouldn't recommend teaching him to open cabinet doors), or retrieving your slippers.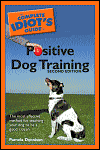 Excerpted from The Complete Idiot's Guide to Positive Dog Training © 2005 by Pamela Dennison. All rights reserved including the right of reproduction in whole or in part in any form. Used by arrangement with Alpha Books, a member of Penguin Group (USA) Inc.
To order this book visit the Idiot's Guide web site or call 1-800-253-6476.