Consistent Dog Training and Variable Reinforcements Are Key
Training Goals
No one is ever done with training, but there are some behaviors you should strive for, as recommended by noted positive trainer Ted Turner. Teach all of these and you will be the envy of every other dog owner you meet!
Eye contact

Name recognition

Praise-word recognition

Walking on a loose leash

Walking on a loose leash with attention to you

Accepting petting, handling, and grooming

Stays (with distractions)

Recall (with distractions)

Crate training

Control in and out of doorways and cars

Potty training

Allowing food removal and ignoring dropped food

No aggression to humans or dogs

No jumping, mouthing, or biting

Tolerance of children

Not totally reliant on food as a reinforcer
Please don't think that these are unattainable—they aren't. It just takes consistency, patience, specific goals on your part, and faith that your dog—yes, your dog—can achieve this level of training.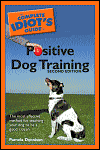 Excerpted from The Complete Idiot's Guide to Positive Dog Training © 2005 by Pamela Dennison. All rights reserved including the right of reproduction in whole or in part in any form. Used by arrangement with Alpha Books, a member of Penguin Group (USA) Inc.
To order this book visit the Idiot's Guide web site or call 1-800-253-6476.