Incorporating Dog Training into Your Routine
Canine Caveats
When running errands while training your dog, be sure to watch the weather. In even relatively mild weather (65 degrees and above), a dog can die of heatstroke in six minutes if left in a closed and unprotected car. Even if he doesn't die, he can suffer irreparable brain damage.
I know it's hard sometimes to think about training your dog when you come home tired, but you owe it to yourself and to your dog. After all, why else did you get a dog if not to have fun with her? Once you "just do it," you should find that your energy level actually increases and your mental state improves. It has been proven that when hospital or nursing-home patients are around dogs, they're happier and more relaxed.
You can train your dog almost any time of the day or night—while you cook, eat, clean, talk on the phone, work on the computer, watch TV, run errands, go to the softball game, go swimming, take a hike, or ride a bike.
A typical day of running errands and training at the same time can be the following:
Go to the bank, bring the dog with you, and practice door etiquette.

Pick up your dry cleaning and practice loose-leash walking in the parking lot.

While doing your laundry at the Laundromat, practice stays and eye contact, and play the "hide the cookie" or "toy in the towel" game. You can even put the dog on a longer leash and practice recalls.

When you go to the pet shop, practice door etiquette, sitting politely for petting, and loose-leash walking.
So you see, it's not hard to find time to work with your dog. My hope for you is that you become a training junkie and sell your couch and TV to make room for training equipment!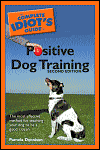 Excerpted from The Complete Idiot's Guide to Positive Dog Training © 2005 by Pamela Dennison. All rights reserved including the right of reproduction in whole or in part in any form. Used by arrangement with Alpha Books, a member of Penguin Group (USA) Inc.
To order this book visit the Idiot's Guide web site or call 1-800-253-6476.