Incorporating Dog Training into Your Routine
An Apple a Day
If you spend as little as three five-minute sessions per day training your dog, you'll have a good dog. The sessions don't have to be strictly formal—you can train your dog while running errands or doing chores around the house. You can (and should) train while you play with her and play while you train. Your dog should not know the difference between playing and training—both should be equally fun and satisfying. What may actually happen is that you end up enjoying the sessions because your dog soaks up whatever you teach her. You'll see positive results and that will spur you on to train more.
Following the training charts in this section will …
Keep you on track with each new behavior.

Advance each behavior in small approximations (steps).

Help you to become variable in how you reinforce.

Give you an idea of how you can train your dog, even while cleaning the house.
Sample Training Guides
These charts are a checklist and guideline for training. They list the many different behaviors you can work on, plus how you can be variable and unpredictable in how you reinforce each repetition. Once you get the hang of this, you can make up your own charts based on the behaviors your dog still needs to learn.
Week one training guide.
Week two training guide.
Week three training guide.
As you can see, this is all pretty basic stuff that will fit easily into your busy schedule. You'll notice that, in the beginning, lots of food is used, but as the weeks go on, other types of reinforcers are used to keep the behaviors intact.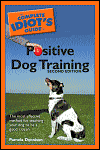 Excerpted from The Complete Idiot's Guide to Positive Dog Training © 2005 by Pamela Dennison. All rights reserved including the right of reproduction in whole or in part in any form. Used by arrangement with Alpha Books, a member of Penguin Group (USA) Inc.
To order this book visit the Idiot's Guide web site or call 1-800-253-6476.