The Canine Good Citizen Test: Proper Dog Greetings
There are 10 sections that make up the CGC test. The first three are accepting a friendly stranger, sitting politely for petting, and appearance and grooming. The following sections explore what you'll need to practice for each part of the test.
Accepting a Friendly Stranger
Your dog is to be at your side, preferably sitting or lying down. The tester approaches and the dog should remain in position, or at the very least, should not maul the tester. The tester shakes hands with you and does not interact with your dog. You may talk to your dog, and remind him to stay.
The best way to teach this is to teach your dog that "a person approaching is a cue to sit." This is very easy to teach and can be done in six steps:
Pooch Pointers
If you've done a lot of work with your dog in front of you, you now need to teach her to be comfortable at your side. Just have her sit next to you and feed her for being in that position. After a few minutes of getting fed there, she will stop whirling around in front of you.
Hold the dog on the leash. Be sure not to pull on the dog if he does start to jump. Just be a rock.

Have a person approach and have that person ask the dog to sit. (You can show the person your hand signal for "Sit.")

Once the dog sits, the person who approached your dog can give him a treat after you click for the sit.

Repeat bunches of times (usually after five to six times the dog sits automatically). You may also want to build up some duration between the sit and the treat so that your dog doesn't expect a treat within one second and then get annoyed if that person doesn't deliver (remember scheduled induced aggression from Correcting Aggression in Dogs?).

Once the dog sits automatically, the person no longer has to say the word "Sit," although you may still want to say it yourself.

Now change your stranger to a new person and repeat all of the preceding steps.
The more you do this with new people, the faster your dog will generalize. Be sure, however, that you do not yank on the leash if the dog does jump. Just have the person to stay out of leash range at first and wait for your dog to get down. Remind him to sit and have the person approach again.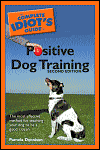 Excerpted from The Complete Idiot's Guide to Positive Dog Training © 2005 by Pamela Dennison. All rights reserved including the right of reproduction in whole or in part in any form. Used by arrangement with Alpha Books, a member of Penguin Group (USA) Inc.
To order this book visit the Idiot's Guide web site or call 1-800-253-6476.