The Canine Good Citizen Test: Proper Dog Greetings
Sitting Politely for Petting
This exercise is almost the same as the first one. The idea is to get the dog used to people petting him without him getting upset or jumping. The tester will approach your dog. The dog should be in either a "Sit" or a "Down." The tester then lightly pets your dog.
Once your dog has learned the first step, training for this one is a piece of cake. Follow these steps:
Have the stranger approach your dog while you remind your dog to sit.

As the stranger reaches out to pet your dog, feed your dog a treat. As soon as the petting stops, stop feeding the treats.

Have the person walk away and then walk back and do it again.

After about five to six times, you shouldn't need to feed your dog because he is now comfortable with a stranger petting him.

Change your stranger to a new person and repeat all of the preceding steps.
Canine Caveats
Make sure your dog is comfortable with you doing these things before having your stranger do them. Review Petting and Handling Dogs to make sure that your dog is perfectly relaxed about being handled in this way.
Pooch Pointers
The obvious benefit to these exercises is that your dog will welcome petting and handling by strangers and not need to be muzzled for grooming and vet visits.
If at any time your dog jumps, don't yank him down. Don't forget that the opposition reflex causes the dog to push or pull against anything that is pushing or pulling against him. So of course, the more you yank on your dog, the more he will jump.
Appearance and Grooming
This test shows that your dog will accept handling from a stranger such as a groomer or veterinarian. The tester approaches your dog, lightly brushes him (just a few strokes), lifts up and examines each front foot, and touches each ear.
When training, break this exercise into three parts: brushing, foot lifting, and then ear touching. Here's what to do:
Taking the last set of steps, you can now add in brushing along with the touching of each body part. Remember to go slow so as not to distress your dog.
When your dog is comfortable with strangers brushing him, repeat all of the preceding steps but insert paw lifting after the brushing. After he's doing well with his feet being touched, you can add ear touches.
If you practice these three sections religiously, your dog will breeze through them come test time.
See parts four and five of the CGC test.
See parts six and seven of the CGC test.
See parts eight and nine of the CGC test.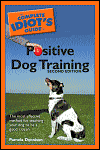 Excerpted from The Complete Idiot's Guide to Positive Dog Training © 2005 by Pamela Dennison. All rights reserved including the right of reproduction in whole or in part in any form. Used by arrangement with Alpha Books, a member of Penguin Group (USA) Inc.
To order this book visit the Idiot's Guide web site or call 1-800-253-6476.