The Canine Good Citizen Test: Loose-Leash Walking
Canine Caveats
Practice in many locations. Sometimes the tests are held indoors and sometimes outdoors. Some dogs do better inside without the distractions of nature, and some dogs do better outside without the "pressure" of a small building or room. Train for both and you won't have to worry.
Sections four and five of the Canine Good Citizen test (See parts one through three of the CGC test.) have to do with loose-leash walking. Review Building an Outdoor Relationship with Your Dog and make sure you've taken it "on the road" and proofed loose-leash walking in all kinds of strange places before you take the test.
The dog doesn't have to be in rigid "heel" position, because this is not competition obedience. The tester just needs to see that the dog is attentive to you and will stay with you if you change direction. You'll be directed to lead your dog in a right turn, a left turn, and an about turn (a 180-degree turnaround), with a stop in between and one at the end. Don't forget that you can talk to your dog and encourage him to follow you as you make each turn.
Out for a Walk
In section four, "out for a walk" demonstrates that you can walk your dog on a loose leash and that she doesn't walk you. She may be on either your right or left side, whichever you prefer. The dog doesn't need to sit when you stop, but it helps in keeping her attention.
If the leash is pulled tight continually or the dog sniffs the ground excessively, the dog will not pass the test. Be sure to practice using the other types of reinforcers listed in Reinforcement Schedules and Variable Reinforcement for Dogs, because food is not allowed during the CGC test.
Walking Through a Crowd
Doggie Data
Food and toys are not allowed during the CGC test, but petting and praise are. Make sure you've built up longer behavior patterns and have built up the value of verbal praise and petting.
This test for section five shows that your dog can walk politely in a crowd of people without jumping on them or ripping your shoulder out of its socket. Your dog can show some interest in the crowd, but must continue to walk with you. Sniffing a person briefly is allowed, but the dog should come back to you and proceed with your walk.
Because you've done your homework, this should be pretty easy for you and your dog. If you're still having problems with this, don't despair. Just practice more, continuing to make it fun for your dog to ignore people. Heavily reinforce with petting, food, and toys when he leaves strangers alone.
If you have to, stay far away from groups of people and gradually move in closer and closer. The nearer you are to the group, the more heavily you should reinforce his attention. After a while, you should be able to wean him off of the bigger reinforcers and just use praise and petting.
See parts six and seven of the CGC test.
See parts eight and nine of the CGC test.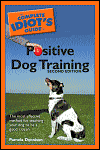 Excerpted from The Complete Idiot's Guide to Positive Dog Training © 2005 by Pamela Dennison. All rights reserved including the right of reproduction in whole or in part in any form. Used by arrangement with Alpha Books, a member of Penguin Group (USA) Inc.
To order this book visit the Idiot's Guide web site or call 1-800-253-6476.