The Canine Good Citizen Test: Sit, Down, and Stay
Tests six and seven show that the dog has training and will respond to your cues of "Sit," "Down," and "Stay." Because you've practiced this in many different contexts, this will be a walk in the park for you.
Sit, Down, and Staying in Place
Pooch Pointers
You can talk to your dog incessantly throughout the test. In fact, I recommend talking to your dog to relax both of you.
The tester will ask you to have your dog do a "Sit" or "Down." As you already learned, you don't need to push or pull the dog into position, and these methods are not allowed during the test anyway.
Prior to this test, a 20-foot lead is attached to the dog's collar. After the dog does the "Sit" and "Down," you will be instructed to ask the dog to "Stay." You can do either a "Sit Stay" or a "Down Stay"—whichever your dog does better. Then you walk out to the end of the 20-foot line, turn around, and come right back. You can say "Stay, stay, stay" the entire time. You won't need to if you've trained properly, but if it makes you feel better, you can repeat the cues.
Coming When Called
This test demonstrates that the dog will come when called. While the dog is still on the 20-foot line, you will walk 10 feet away from her, telling her to "Wait" or "Stay." Then you call your dog to you. You can use thigh slapping or verbal encouragement and can call the dog numerous times. However, you won't have to because you've trained her to respond on the first cue!
See parts one, two, and three of the CGC test.
See parts four and five of the CGC test.
See parts eight and nine of the CGC test.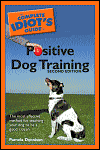 Excerpted from The Complete Idiot's Guide to Positive Dog Training © 2005 by Pamela Dennison. All rights reserved including the right of reproduction in whole or in part in any form. Used by arrangement with Alpha Books, a member of Penguin Group (USA) Inc.
To order this book visit the Idiot's Guide web site or call 1-800-253-6476.