The Canine Good Citizen Test: Reactions to Strangers
Canine Caveats
Your dog is permitted to show a casual interest in the noise or sight distractions, but she can't show fear, resentment, or shyness. She can even startle slightly, but must not try to pull away in fear. She also has to show that she can recover from the startle within a short period of time and not remain shaking or cowering.
Obviously, urinating or defecating in fear, or barking and lunging, are not acceptable. A few barks may be all right if the dog is then silent.
Pooch Pointers
As the distraction passes by, you're allowed to remind your dog to stay. Don't underestimate the power of the "Stay." If a dog is slightly nervous, responding to a cue from you may just help him relax; it gives him a "job" to do.
Doggie Data
If the distraction dog creates a ruckus, you can ask to take that portion of the test again with a more appropriate dog. You are entitled to a "neutral" dog.
Canine Caveats
If the test is held outside, urinating or defecating is allowed for only this test. If, however, the test is held indoors, either action is an immediate cause for failure.
Tests eight and nine show that your dog won't have a fearful or aggressive reaction to distractions or other dogs. A Good Citizen is not just about being good around human strangers, but around dog strangers as well.
Reaction to Distractions
There are two types of distractions used during test eight: a visual one and an audible one. The tester might use a person on crutches, a walker, or a wheelchair; the sudden opening or closing of a door; a jogger or bicyclist; a person pushing a shopping cart; or someone clanging metal bowls or dropping a large book.
To train for these things, start with the audible distractions. Set up your sessions carefully, and gradually make the distractions bigger. Here's what you should do:
Start with a small paperback book and drop it on the floor while feeding the dog simultaneously.

Repeat a few times to ensure that the dog has no reaction.

Graduate to a larger book and repeat steps 1 and 2.
Provided that the dog didn't react to the books, you can now add something a little noisier, like a metal bowl or pan. Continue to feed him simultaneously while dropping the objects.
Persevere in training using more and louder noises, always making sure that you feed your dog for calm behaviors. If at any time your dog shows nervousness or fear, move back a step and reinforce at the last level he was successful. Then move up the ladder at a slower rate.
Now you can add visual distractions. Start back at the beginning, using a mild one, such as a kid's wheelbarrow or even someone walking a bicycle. As you did with audible distractions, add bigger items that are moving faster and faster.
Reaction to Another Dog
Passing test nine is another sure sign that you've done a fantastic job training your dog. Another handler and neutral dog will approach you and your dog. When you're within arm's length of each other, you will all stop and you will ask your dog to sit or lie down.
You and the other handler will shake hands and exchange pleasantries for a few seconds and then move away from each other. The dogs will be on the outside (left) of the handlers as they approach each other. Your dog can show a mild interest in the other dog, but must show no fear, shyness, aggression, panic, or "Hi there, let's dump these humans and go play!"
You can teach your dog to accept a neutral dog the same way you taught her to accept a friendly stranger. Take it in small steps, heavily reinforcing your dog for remaining calm around the other dog. I like to start with two dogs, walking far apart and parallel to each other (walking parallel is a calming signal). Once your dog is comfortable, gradually come in a little closer. Once you are walking almost side by side, you can now start walking toward each other. Start out far away and gradually come in closer and closer.
See parts one, two, and three of the CGC test.
See parts four and five of the CGC test.
See parts six and seven of the CGC test.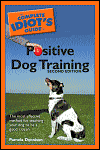 Excerpted from The Complete Idiot's Guide to Positive Dog Training © 2005 by Pamela Dennison. All rights reserved including the right of reproduction in whole or in part in any form. Used by arrangement with Alpha Books, a member of Penguin Group (USA) Inc.
To order this book visit the Idiot's Guide web site or call 1-800-253-6476.