The Canine Good Citizen Test: Supervised Separation
Doggie Data
This seemingly useless test is actually a fantastic experience for your dog. We don't like to think about it, but what would happen to your dog if something happened to you? Would he be able to move nicely and serenely into a new home, or would he freak out at being away from you?
Although having a great relationship with your dog is essential, you also want your dog to be able to be with other people. At the very least, I'm sure you'd like to go on vacation without your dog being traumatized.
Supervised separation is the last and sometimes the hardest section of the CGC test. This test shows that your dog can be left alone for three minutes with a stranger and maintain his good manners and training. The dog doesn't have to stay in position, but isn't allowed to jump on the evaluator or otherwise be a pest. The dog also is not permitted to whine, bark, howl, growl, pace, or show anything more than mild agitation.
Training for supervised separation need not be traumatic for your dog. Just as with everything else in positive training, break it down into tiny approximations and you'll have a dog who doesn't freak out if you leave him.
To train for supervised separation, follow these steps:
Start out with a friend whom the dog knows and likes.

Go out of sight for three seconds. Have your friend feed the dog a few treats while you're gone.

When you come back, don't go crazy with praise; soft petting and praise will be sufficient.

Leave again for five seconds while your friend feeds the dog.
Be sure to use a timer when you practice this so that you don't inadvertently leave for too long. Continue adding a few seconds more each time until you gradually build up to three minutes of your dog being calm without you.
Your friend should also start feeding less once you've reached the full three minutes. If at any time your dog gets nervous, have your friend try to redirect to simple behaviors such as a "Sit" or "Down." He or she can also try some of the calming signals such as yawning or lip licking. Be sure that the friend doesn't inadvertently reinforce your dog for being nervous by talking, petting, or comforting her.
Above all, do not rush this. If your dog gets too nervous, you don't want to come back to her, because then she learns that her nervousness brings you back. You want her to learn that her calmness is what brings you back.
Keep your comings and goings low-key. Although it's good for your ego when your dog goes ballistic in greeting you (even if you leave for only five seconds), it's not healthy for the dog. Practice building for a few extra minutes more than you'll need. Most competition trainers teach their dogs to do the stay exercises for longer than needed. For instance, they will train a two-minute "Sit Stay" rather than the one minute needed in the ring. Why? Because when they are really competing, it will be easier for the dog.
Practice these exercises in many locations and you'll ace your test. I also recommend that you watch a CGC test without your dog along, so that you'll know what to expect once she's ready. You'll learn the flow of the tests and how they're handled, and it will help your stress level remain low. Prepare yourself, prepare your dog, and then pick out a beautiful new frame and prominent location to hang your Canine Good Citizen certificate! Congratulations!
See parts one, two, and three of the CGC test.
See parts four and five of the CGC test.
See parts six and seven of the CGC test.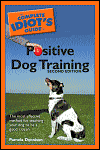 Excerpted from The Complete Idiot's Guide to Positive Dog Training © 2005 by Pamela Dennison. All rights reserved including the right of reproduction in whole or in part in any form. Used by arrangement with Alpha Books, a member of Penguin Group (USA) Inc.
To order this book visit the Idiot's Guide web site or call 1-800-253-6476.