Dog Training Benefits Both You and Your Dog
Training your dog is something the two of you do together, as a team, rather than something you do to your dog. When you and your dog work together, the two of you bond more closely, learn more about each other, and deepen your relationship.
Dog Talk
Bonding is the attachment felt between a dog and owner who care about each other. It's a relationship; a partnership that is hard to define but easy to feel. If you look at your dog and smile, even when he's done something wrong, or silly, or bad, you've bonded with him.
Training also builds better behavior. A trained dog is welcome places where poorly behaved dogs are excluded. A trained dog can go camping and hiking and can participate in dog sports and activities. A trained dog can volunteer as a therapy dog. A trained dog is a joy instead of a pain in the neck. The joys and benefits of training are numerous and far outweigh the time spent doing it. When done in a manner you both enjoy, training has no downside.
Bet You Didn't Know
Have you ever heard someone say that her dog seems able to read her mind? When your dog spends time with you, he learns to put two and two together and come to a conclusion. It's almost as if he really could read your mind. And then again, maybe he can!
Bonding with Your Dog
The process of bonding with your dog begins as soon as you bring him home. If you have a young puppy, the process is usually very quick. If you have adopted an older dog, bonding might take a little more time, especially if the dog has been mistreated or is grieving his previous owners.
The initial bond with your dog is a tentative one. Your dog doesn't know you yet, nor do you know him. To strengthen that bond, you must spend time with him and do things together. When you do, you learn what makes your dog tick, and how to teach him, work with him, and play with him. Your dog learns how to respond to you, what makes you happy, and what makes you angry. As you do things together, you build respect and trust, and the relationship you have deepens.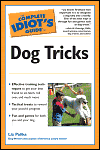 Excerpted from The Complete Idiot's Guide to Dog Tricks © 2005 by Liz Palika. All rights reserved including the right of reproduction in whole or in part in any form. Used by arrangement with Alpha Books, a member of Penguin Group (USA) Inc.
To order this book visit the Idiot's Guide web site or call 1-800-253-6476.