Dog Training Benefits Both You and Your Dog
Dog Talk
Trick training is teaching your dog to do specific things that might or might not have practical applications but are fun to teach.
But don't think bonding must all be deadly serious. No, there's nothing in the definition that says bonding with your dog, or training your dog, must be serious. I much prefer to laugh than cry, and would choose smiles over frowns any day, and I apply that to my training. Trick training is fun, and when you train your dog to perform tricks, you will laugh a lot. And that's good for you, for your dog, and for the relationship you share.
Building Better Behavior
Training, whether it's obedience training, training for a dog sport, or trick training, can help your dog be better behaved. The obedience commands, such as Sit, Down, Stay, and Heel, help teach him what to do when he hears those words, and that's very important. Your dog won't jump up on people when he knows to sit instead and to hold that sit when people touch him. He won't drag you down the street, choking himself and pulling your arm out of socket when he knows how to walk nicely on the leash.
Although basic obedience training is recommended for puppies, it's really not just for the young. Training should continue through the life of your dog. Just as you continue to learn, so should your dog. Not only does training keep him focused, it also keeps his mind active. If you didn't learn new things, you would stagnate; your dog can, too. Not only that, but a bored dog is more apt to get into trouble.
Tricks Make Training Fun
Trick training is fun; it's as simple as that. You can't teach your dog to roll over, say his prayers, or weave through your legs without laughing. When you laugh with your dog, you're going to have fun. The more fun you have, the more apt you will be to train some more, and the more you train, the better you both will be at it. Wow! There's no downside to that at all, is there?
Trick training will also challenge you and your dog. You will learn more about training your dog and you'll become a better dog trainer because you'll have to think through the training process. Even though I will take you step by step through each trick, you're going to have to do the actual training. Some tricks will come more easily to the two of you, and others will be more difficult. Just work through them and remember to have fun with your training even when it's challenging.
Trick Training Requires Basic Training
Teaching your dog to perform tricks requires a solid foundation of basic obedience training. Not only do many of the tricks begin with an obedience command (for example, Shake Hands begins with a Sit, and Roll over begins with a Down), but the process of training also teaches your dog how to learn. That's not to say he isn't learning something all the time (he is!), but he might not necessarily be taking in exactly what you want him to learn. And teaching him basic obedience shows him how to accept what you're teaching him.
Dog Talk
The basic obedience commands have traditionally included Sit, Stay, Down, Heel, and Come, although many trainers also teach Watch Me and Release.
Teaching your dog the basic skills also gives you a chance to figure out how to train your dog. It's not as easy as saying, "Fido, Sit!" and then watching him do it. As you teach your dog the basic commands, you will find out how to communicate with him so he understands what it is you want him to do. You will also have to discover what motivates him, so he wants to cooperate with you. By the time your dog is reliable with the basic obedience commands, the two of you should be comfortable with your training skills and will be ready to move on to trick training.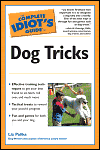 Excerpted from The Complete Idiot's Guide to Dog Tricks © 2005 by Liz Palika. All rights reserved including the right of reproduction in whole or in part in any form. Used by arrangement with Alpha Books, a member of Penguin Group (USA) Inc.
To order this book visit the Idiot's Guide web site or call 1-800-253-6476.