Using Positive Reinforcement with Your Dog
The training technique used in this book emphasizes positive training tools. There is no rough stuff here. Instead, we will be using positive reinforcements to help the dog learn and to build his cooperation.
Dog Talk
Training tools are things used to help teach your dog and might include a leash, your voice, food treats, and even toys.
Positive reinforcements are things your dog likes (such as your happy praise, food treats, and toys) that can be used as training aids. You will give him these things when he performs correctly.
I don't teach clicker training in this book. The clicker is a popular positive training technique using a small noisemaker as a training tool. The clicker is an effective training tool, but it does require some specific skills to use correctly and effectively. Because there are already many books available to dog owners that teach clicker training, I won't duplicate them. However, if you're already skilled in the use of a clicker, the tricks demonstrated in this book can be taught with one. If you have never used a clicker previously, don't worry about it. You can still train your dog using positive techniques without knowing how to use a clicker.
Using Your Voice
Most dog owners find that the easiest training tool to use is their voice. You can convey different emotions by simply changing the tone of your voice. For example, using a high-pitched happy tone of voice (think of how you said, "Ice cream!" as a child), look at your dog and say his name, "Fido!" What did he do? He probably looked at you and wagged his tail. If you repeat his name, concentrating on that happy tone of voice, he will then most likely come to you, making eye contact, as if to say, "What? What are you happy about?"
Now let him relax for a few minutes and go lie down. Now look at him and using a deeper tone of voice, such as you might use when your dog gets into trouble ("Oh, bad dog!"), repeat his name. What did your dog do this time? Most dogs will pull back their ears and lower their head. If he does, ease his confusion; go pet him and apologize!
This demonstrates the power of your voice. It's a very effective training tool. Just remember, especially in the beginning, to exaggerate the happy tone of voice.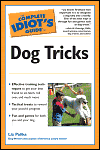 Excerpted from The Complete Idiot's Guide to Dog Tricks © 2005 by Liz Palika. All rights reserved including the right of reproduction in whole or in part in any form. Used by arrangement with Alpha Books, a member of Penguin Group (USA) Inc.
To order this book visit the Idiot's Guide web site or call 1-800-253-6476.