Using Positive Reinforcement with Your Dog
Troubleshooting
If you normally have a high-pitched voice and are prone to excitement, concentrate on staying calm for several days before beginning your dog's training. You want to have a separation between your "training voice" and behavior, and your normal voice and behavior.
Offering Food Treats
Many years ago the idea of using food treats in conjunction with training was looked down upon. I think it was considered spoiling the dog, or something like that. I still hear from people in my classes, "I want my dog to work for me, not for the treats." When I explain that the giver of the treats is very important (at least as far as the dog is concerned), they usually relent.
Bet You Didn't Know
Always use your voice when using food treats. For example, when your dog does something correctly, praise him as he does so, "Yeah! Good boy!" and then give him the treat. Your voice marks the good behavior; the treat re-wards it.
I use food treats because they get the dog's attention faster than any other single training tool available. With some good food treats, I can teach a dog to focus on me and ignore distractions in just a few moments. After he's learned to focus on me, I can then expand his learning and teach him other things. Without the food treats, training takes much longer.
Food treats are used in several ways:
Rewards: When your dog does something correctly, he will be given a piece of the treat as a reward.
Lure: A treat used to lead the dog through a movement or motion is called a lure. After the dog follows the lure, he is given it as a reward.
Target: A treat is placed on an object or in a place to show the dog he is to move to that spot or touch that object. When he gets there, he gets the treat.
Jackpot: When the dog does something extraordinary, or has a training breakthrough, he should be given a handful of treats or some special treats. This super-size reward is called a jackpot.
To work, the food treats must be something your dog likes. If your dog is food motivated and will eat anything he can fit in his mouth, some of his dry dog food might work. Other dogs need something a little more special, like freeze-dried liver or homemade doggy cookies.
Here are some food treat suggestions you might find in your kitchen:
Leftover meat from dinner including chicken or beef, diced into small pieces.
Cooked hamburger, with the grease blotted off.
Carrots, diced into small pieces.
Popcorn without butter or salt.
Hot dogs, cooked, sliced, and diced into small pieces.
Elbow macaroni, boiled and soft but not mushy, cooled.
Breakfast cereal, the kind without a coating of sugar.
Food treats can also be more effective if you change them; your dog might lose some enthusiasm if he gets the same treat all the time. Have a variety of treats and offer something different at each training session.
The treats should be small, easy to eat, and should not require a lot of chewing. Chewing will take up too much time during your training.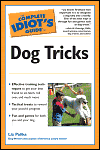 Excerpted from The Complete Idiot's Guide to Dog Tricks © 2005 by Liz Palika. All rights reserved including the right of reproduction in whole or in part in any form. Used by arrangement with Alpha Books, a member of Penguin Group (USA) Inc.
To order this book visit the Idiot's Guide web site or call 1-800-253-6476.