Using Positive Reinforcement with Your Dog
Troubleshooting
If your dog has a tendency to get chubby, cut back on his regular food a little as he's getting more training treats. You can also increase his exercise at the same time so that he works off those extra calories.
Balls, Toys, and Noisemakers
Not all dogs are motivated by food treats, and this can present a different type of training challenge. If your dog is a picky eater and turns up his nose at treats, you will need to find something that excites him, something that gets his attention. Take him to the local pet supply store and walk him up and down the aisles. Do squeaky toys get him bouncing? Does he like the stuffed dog toys that make animal sounds? Some dogs, especially the terriers, like the furry cat toys. Other dogs go crazy over tennis balls.
After you find the toy or noisemaker that gets your dog's attention, save it for your training sessions. By limiting your dog's exposure to it, you can keep it special. If your dog has it all the time, it might lose its luster; then you'll have to find something else to motivate him.
Bet You Didn't Know
If you find your dog will work better for a toy or ball than treats, use that in place of a treat while training him. To follow the directions in this book, simply substitute "toy" or "ball" when the directions call for treats.
You will use a toy or ball in much the same way as you would a treat. When your dog does what you want, give him the toy along with verbal praise. You can toss it in the air, throw the ball, or squeak the toy as you give it to him. Let him enjoy it for a moment or two and then take it back. Praise him as he lets go of it and then continue your training.
Rewards from You
You are a vital part of your dog's rewards; you are more than just the dispenser of treats and "Good boys!" Your body language, facial expressions, and touch are all a part of your dog's training.
Recently I had a student in a basic obedience class who was quite reserved. She was able to relax enough to praise her dog effectively but her dog was still guarded in her actions and was hesitant to try anything new. I joked with the woman a little, got her to laugh, and as she relaxed, so did her dog. When the woman recognized how she was inhibiting her dog, she was able to learn to control her own body language (by relaxing her shoulders, moving her arms away from her body, leaning forward, and standing easily and less rigidly) so she could help her dog.
Facial expressions are even more important than body posture. When you're training your dog, be aware of what your facial expressions are telling your dog. Picture this scenario: You're teaching your dog something new and are concentrating on the training steps. You're trying to make sure you're doing everything right, and as you concentrate, your forehead wrinkles, you bite your bottom lip, and your eyes squint. All of a sudden you find your dog backing away from you. What happened? To your dog, all those facial expressions equal a frown, and a frown means you're not happy.
You can control your facial expressions just as you can control your body postures. Enjoy your training, don't take it too seriously, and smile! When you smile and use a happy tone of voice to praise your dog, you will find yourself enjoying the training more and your facial expressions will reflect it. Your dog will be happier to work close to you and won't be as eager to pull away from you.
You can also use petting and touch as a positive reinforcement. Although petting is not the first or even the second reward (your voice and food treats take the first and second spots), it is a viable and useable reinforcement. A pat on your dog's side as you tell him, "Yeah! Good boy! Awesome job!" is very effective. If he's getting a jackpot reward, rub his ears, scratch his neck under his collar, or just hug him close as you also reward him with praise and treats.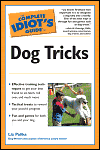 Excerpted from The Complete Idiot's Guide to Dog Tricks © 2005 by Liz Palika. All rights reserved including the right of reproduction in whole or in part in any form. Used by arrangement with Alpha Books, a member of Penguin Group (USA) Inc.
To order this book visit the Idiot's Guide web site or call 1-800-253-6476.