Grabbing Your Dog's Attention
Before you begin to train, you want to make sure you have your dog's attention. It's tough to teach him if he's watching the ceiling fan, chasing the cat, or hunting for imaginary bugs. So to begin, find some really good treats you can use as positive reinforcements. Dig out the leftover chicken or steak, or the freeze-dried liver, and dice it up into tiny pieces.
Bet You Didn't Know
Most of these exercises and tricks can be practiced in groups of five repetitions. Do something five times and then give your dog a break. If you ask him to do something more than five times, you're apt to bore him or lose his attention. Think "fascinating five"!
Bet You Didn't Know
Always stop every training session before your dog gets bored, or too full for another treat. Leave him wanting to do more.
Fasten the leash to your dog's collar and hold it in one hand. Have some treats in the other hand.
Using that happy tone of voice I talked about in the first chapter, say your dog's name, "Fido!"
As soon as he looks at you, praise him, again in that happy tone of voice, "Good boy!" and pop a treat in his mouth.
Repeat for a total of five times and quit.
After you practice this exercise five times and then stop, your dog is going to watch you, follow you around, and perhaps even beg for more treats. That's okay—praise his attention but don't feed him any more treats. Not now. You wanted to get his attention and you did. Right now he's not sure what you wanted, what he was supposed to do, or what he was being praised and rewarded for, but he's curious. Good!
In fifteen minutes or whenever you can make the time, repeat the steps above. Later in the day, do it again. Repeat the steps again the next day two or three times. After several sessions, your dog should be watching you, waiting for you to pick up the leash. When you do, and he runs to you, you're ready to move on.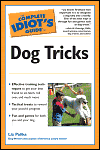 Excerpted from The Complete Idiot's Guide to Dog Tricks © 2005 by Liz Palika. All rights reserved including the right of reproduction in whole or in part in any form. Used by arrangement with Alpha Books, a member of Penguin Group (USA) Inc.
To order this book visit the Idiot's Guide web site or call 1-800-253-6476.