Make Eye Contact with Your Dog
Now that you have taught your dog a few exercises and you have some experience teaching him, we'll introduce the Watch Me command. The two exercises are much alike, but when we teach Watch Me, we'll introduce a command and we'll increase the distractions.
With your dog on a leash, hold the leash in your left hand and have a treat in your right hand.

Dog Talk

Watch Me means pay attention to me and ignore distractions.

Bet You Didn't Know

Your dog will watch you take the treat from his nose to your face and might think you're going to eat it yourself! That's okay, he's going to watch what you're doing. Praise him as soon as he looks from the treat to your face. Watch his eyes move.

Have your dog Sit and reward him.
Let your dog sniff the treat in your right hand. Tell him, "Fido, Watch Me!" and take the treat from his nose to your chin.
His eyes will follow the treat. When his eyes move from the treat to your face, praise him, "Good boy!" and pop the treat in his mouth.
Repeat for a total of five repetitions and give him a break.
When your dog is watching you intently on command (usually after a week or more of training), begin making it more challenging.
Have your dog Sit in front of you, facing you, and do a Watch Me.
Take a step to your right side, asking your dog to watch you as you move. You might need to repeat the Watch Me command and hand signal to keep his attention.
Reward him when he does. Repeat for five repetitions each training session.
At your next training session, repeat the exercise while taking a step to the left.
Over the next few training sessions, challenge your dog to watch you while you move around. You can walk back and forth several steps to the right and left, moving in front of your dog. You can also back away from your dog, asking him to move with you while watching you. Keep your dog's excitement level high, praise often, and use some good treats.
Continue using the treats as lures for this exercise for as long as you need to use them. If your dog is easily distracted, use some really good treats and vary them each training session. Make sure your praise is good, too. This is a wonderful command, one that you will use with your obedience training as well as your trick training.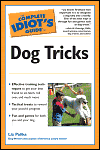 Excerpted from The Complete Idiot's Guide to Dog Tricks © 2005 by Liz Palika. All rights reserved including the right of reproduction in whole or in part in any form. Used by arrangement with Alpha Books, a member of Penguin Group (USA) Inc.
To order this book visit the Idiot's Guide web site or call 1-800-253-6476.