Five Tips for Successful Dog Training
Training is not always easy; it can be frustrating and repetitious, and it might proceed more slowly than you think it should. However, training can also be extremely rewarding. When you successfully teach your dog and that light bulb goes on over his head, "Hey! I get it!" all your efforts will be worthwhile. If you are patient with your dog, and keep your training positive and fun, you will also sense a deepening in the relationship you share.
Here are some tips for successful training:
Keep that "fantastic five" in mind. Always do five repetitions of each new training step and then give your dog a break or move on to something else.
During those breaks, which can be just a couple of minutes or a couple of hours, let your dog relax, sniff, go potty, or take a nap.
Be patient with both yourself and your dog. This is a learning process for you both.
Be consistent with your rules and your training. For example, if you ask your dog to Sit for his meals, do so all the time.
Allow yourself to have fun. Training doesn't have to be like military boot camp; have fun with it!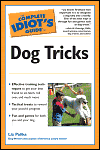 Excerpted from The Complete Idiot's Guide to Dog Tricks © 2005 by Liz Palika. All rights reserved including the right of reproduction in whole or in part in any form. Used by arrangement with Alpha Books, a member of Penguin Group (USA) Inc.
To order this book visit the Idiot's Guide web site or call 1-800-253-6476.