Perfecting the Retrieve in Your Dog
Many dogs are natural retrievers and will chase anything thrown, bringing it directly back so it can be thrown again. These dogs don't care if the thing being thrown is a tennis ball, a rope toy, or a stick; they simply love the game! Other dogs will chase the toy, maybe even pick it up, but get distracted and do not bring it back. Some dogs will watch their owners toss a ball or toy but have no desire to go get it, never mind bring it back.
Bet You Didn't Know
You can use any command you wish for the retrieve; I use "Get It." You can use that, or "Fetch," or anything you wish. Just be consistent and use the same command when you teach it.
Because there is so much canine variety regarding the retrieve, training it can be confusing. Should you go through all of the training steps when your dog already retrieves naturally? Or should you skip ahead? If your dog has no desire to retrieve on his own, should you even try to do this? I'm going to make your decision easy. Yes, train the retrieve. All dogs should be able to retrieve; it's great exercise for the dog and it's fun for both the dog and owner. It's also good training disguised as a game. So go through all the training steps even if your dog is a natural retriever or a nonretriever.
Playing Tug-of-War
Now you're going to teach your dog to play tug-of-war, a necessary step to learning the retrieve. To play this game you need a toy your dog can get excited about. The best toys for this are the knotted rope toys you can find at pet supply stores. They come in different sizes, so choose one that is small (or large) enough for your dog's mouth.
Tug-of-war has gotten a lot of bad press lately; some trainers feel it teaches the dog to be aggressive toward his owner. That's possibly true, but only if the dog wins every game. The important part of tug-of-war is who has the toy at the end of the game, and you're going to win every single time. But as you play, you're also going to make your dog really excited about this toy, and that can help im-mensely when we begin the retrieve.
Have your dog on leash so you can control the situation should he get overexcited.
Hold the rope toy in both hands, one hand at each end.
Offer it to your dog by shaking it in front of his nose. "What's this? Do you want it? Huh?"
When he makes a move toward it, even if he doesn't grab it, praise him. "Good boy! Yeah!"
When he grabs it, tell him, "Fido, Get It!" and shake it a little. Not too rough, but just enough to get him excited. Then praise him.
After a few shakes, tell him calmly (but not angrily), "Fido, Give."
If he takes his mouth off the toy, praise him enthusiastically. If he doesn't, pull a treat out of your pocket and offer it. He'll have to drop the toy to take the treat.

Troubleshooting

If your dog will not drop the toy for a treat, with one hand reach over his muzzle and, with your fingers and thumb, press his top lips against his top teeth. When he pulls back, praise him, "Good boy to Give!"

When he understands Give means drop the toy, you can then call an end to the game any time you want. This is the important part of this game; when you win every time, you can make sure your dog doesn't take advantage of it.
After each play session, put the toy away where your dog can't get it. Keep it special for these times; if he has access to it all the time, it won't be nearly as special and exciting.
When your dog is bouncing around and begging to play when he sees this toy, you're ready to move on to the retrieve.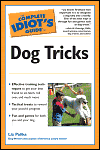 Excerpted from The Complete Idiot's Guide to Dog Tricks © 2005 by Liz Palika. All rights reserved including the right of reproduction in whole or in part in any form. Used by arrangement with Alpha Books, a member of Penguin Group (USA) Inc.
To order this book visit the Idiot's Guide web site or call 1-800-253-6476.