Perfecting the Retrieve in Your Dog
Teaching the Retrieve
If your dog is a natural retriever, you won't have any trouble teaching the retrieve. You just need to teach some commands to go along with the actions. You might also need to establish some control; some natural retrievers can be fanatics about their game. Just follow along with the steps and emphasize the verbal commands.
If your dog is not a natural retriever, it's important to keep the level of excitement high so he learns that this game is great fun. Watch your dog. When his enthusiasm dips, go back to a tug-of-war game and get him excited again. Make sure, too, you stick to the "fantastic five" repetitions; always stop the game leaving your dog wanting more. If you do too many retrieves, you might bore him, or get him so tired he loses enthusiasm.
Put your dog on leash so you can control him should he decide to dash away.
Have the rope toy in both hands (a hand at each end) and begin a tug-of-war game. When he grabs it, tell him, "Fido, Get It!" and praise him. Shake the toy and praise him.
Tell him to Give and take the toy from him. Praise him again.
Do this for a total of five repetitions and give him a short break.
When you come back from your break, offer the toy to your dog, play a quick game of tug-of-war, and then ask him to give it to you.
When he does, praise him and toss the toy to the ground in front of you two feet away. Tell your dog, "Fido, Get It!"
When he moves toward it, praise him. When he picks it up, praise him.
When he turns toward you to bring it back, tell him, "Fido, Bring It Here!" and praise him.

Troubleshooting

If your dog tries to dash off with the toy, you have his leash. Guide him back to you and praise him.

When he brings it to you, play a quick game of tug-of-war. Ask him to give you the toy and praise him again.
Repeat for a total of five repetitions and take a break.
Over several days and several short training sessions, begin throwing the toy farther away. Don't start out tossing it fifty feet away; after all, you want to set your dog up to succeed, not learn bad habits like playing keep-away with the toy. Instead, toss it three feet away, then six, twelve, and fifteen feet. Always play this game in sets of five repetitions, with a break in between, and always stop the game before your dog becomes tired or bored.
Introducing Other Toys
After your dog has decided that retrieving the rope toy is great fun, you should be able to introduce other toys with little difficulty. When there is room on the toy for one of your hands and the dog's mouth, just play a little tug-of-war to get him excited and then begin some short tosses. When you use his known verbal commands (Get It, Bring It Back, and Give) he should fall into pattern with the new toy.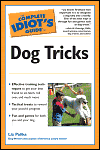 Excerpted from The Complete Idiot's Guide to Dog Tricks © 2005 by Liz Palika. All rights reserved including the right of reproduction in whole or in part in any form. Used by arrangement with Alpha Books, a member of Penguin Group (USA) Inc.
To order this book visit the Idiot's Guide web site or call 1-800-253-6476.