Training Your Dog Off-Leash Skills
Teaching your dog to comply with you when he's off leash can be hard. Although some dogs make the transition easily, without seeming to notice that the leash is no longer attached to their collar, other dogs will take off for a long and potentially dangerous run.
Down, Boy!
Do not attempt to do off-leash work with a puppy. Only mentally mature, well-trained dogs should be worked off leash.
To keep your dog safe, never attempt to train off leash without following the training steps outlined here. In addition, always be aware of where you are and what is surrounding you. Train inside with the outside doors closed or train outside in a securely fenced area. Make sure no one is going to open the door or gate and leave it open while your dog is off leash. Be aware and be safe.
Before starting any off-leash training, evaluate your dog.
How old is he? If he's less than eighteen months of age, give him some time to grow up. Although there are a few exceptions, most dogs under eighteen months of age are still mentally immature.
Is he mentally mature? Some dogs are still mentally immature at two or even three years of age. If your dog has a hard time concentrating on anything (except maybe his dinner) and he is easily distracted, wait a while longer before beginning this training.
How are his basic obedience skills? Your dog should know all the basic obedience exercises well and do them reliably. He should be able to perform all of them without lures, although food rewards are still fine.
What breed (or mixtures of breeds) is your dog? Some breeds have a difficult time controlling themselves off leash. Many of the sighthounds, especially retired and rescued racing greyhounds, should not be off leash outside of a fenced-in yard. If you have a breed (or an individual dog) that was bred to run, is known to be stubborn, or is particularly defiant, be cautious doing off-leash work.
If you feel you can safely begin off-leash training, find a place where you and your dog can be safe. A fenced-in yard with a secure gate is great.
Have your dog on leash, Sitting in the Heel position by your left side. Have some really good food treats in your pocket with a few in your right hand.
Tuck the leash into the left pocket of your pants, or if you don't have pockets, into the waistband of your pants. Maintain your left hand in its normal position as if you were still holding the leash.
Do a Watch Me with the treats in your right hand.
When you have your dog's attention, move forward, "Fido, Heel! Good boy!"
After several steps, stop and have your dog Sit. Praise him.
Do a total of five repetitions and give your dog a break or practice something else.
Repeat these training steps over a couple of weeks, gradually making the distance you walk longer. Then make the Heel itself more challenging. Walk a zigzag pattern, turn corners to the right and to the left, Heel in a figure eight pattern, and do quick about-turns. Heeling by itself can be boring, and although your dog needs this practice, nothing says you and he must both be bored by doing it.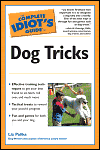 Excerpted from The Complete Idiot's Guide to Dog Tricks © 2005 by Liz Palika. All rights reserved including the right of reproduction in whole or in part in any form. Used by arrangement with Alpha Books, a member of Penguin Group (USA) Inc.
To order this book visit the Idiot's Guide web site or call 1-800-253-6476.