Training Your Dog Off-Leash Skills
When your dog is heeling nicely with you without pulling the leash out of your pocket, you're ready to move on.
For the next few training sessions, have two leashes. Hook both up to your dog's collar. Tuck one in your left pocket (or waistband) and the other in your back pocket.
Sit your dog by your left side in the Heel position, do a Watch Me with a good treat in your hand, and walk forward, "Fido, Heel!"
Walk a few steps, stop, Sit your dog, and praise him.
Reach down and unhook the leash that's in your side pocket. Let it hang free so it's obvious to your dog it's unhooked. (The second leash is your safety leash; it's still tucked into a back pocket, hooked to your dog's collar.)
Repeat your Heel exercises, walking nicely at first, and as your dog shows he can do this, challenging him. Keep the treats good and the praise awesome.
After several training sessions over a couple of days or even a week, when your dog is walking without testing the leash, with no pulling, and is maintaining his attention on you, go back to using one leash.
Hook the leash to your dog and hold it in your left hand with the dog sitting nicely in the Heel position. Have some really good treats in your pocket and in your right hand.
Tell your dog, "Watch Me!" and "Fido, Heel!" and go for a walk. When you have his attention and he's working well, stop and Sit him, and praise him.
Unhook the leash and drape it around your neck. Tell him "Watch Me!" and "Fido, Heel!" and go for a walk.
When he's walking well, praise him. After a little walk, a short one to begin with, stop, Sit your dog, and give him a jackpot of praise.
Repeat for a total of five repetitions.
Now this doesn't mean your dog is completely trained for off-leash work; this is just the beginning. You should continue training in this manner for a while. Go back and forth between one leash, two leashes, and no leash. Use some really good treats and change them from training session to training session so they are always exciting.
You can use similar techniques for training the Stays and Comes off leash. Get a long leash (such as 30 feet of cotton clothesline rope). Hook that up to your dog's collar and practice Stays and Comes at a distance, using the long leash to make sure your dog doesn't decide to dash away. When you feel comfortable with your training, drop the long leash to the ground where you could step on it should you need it. Don't unhook the long leash from your dog's collar until you are 100 percent sure your dog will hold an off-leash Stay and will Come to you every time you call him.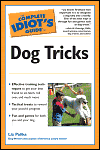 Excerpted from The Complete Idiot's Guide to Dog Tricks © 2005 by Liz Palika. All rights reserved including the right of reproduction in whole or in part in any form. Used by arrangement with Alpha Books, a member of Penguin Group (USA) Inc.
To order this book visit the Idiot's Guide web site or call 1-800-253-6476.