Dog Training with Distractions
Down, Boy!
A distraction is something that gains your dog's attention so that he is no longer concentrating on you.
All of your initial training should be done in a place where your dog is comfortable and secure. This might be your living room or the backyard. When you teach your dog something new, you want as few distractions as possible because your dog needs to pay attention to you to learn.
The learning process in dogs, however, is different than in people. When we learn something, we can make generalizations about it. For example, we were taught in school that two plus two equals four. And we know that two plus two equals four at home, in school, at work, and at the grocery store. Dogs, however, do not necessarily make the same generalizations. Your dog might learn that Sit means "lower your hips to the floor while keeping your front end up and hold still" while he's in the backyard. But he doesn't know that Sit has the same definition in different places unless he is taught in different places. After he's exposed to a variety of locations and distractions, and is required to sit in all of them, he might then learn that Sit is the same everywhere he goes.
Do not begin training with distractions until your dog is doing the obedience exercise or trick very well. When there is no confusion and your dog is repeating the exercise or trick reliably, then you might add a single distraction. What the distraction is depends on your individual dog. What is exciting to one dog might not be exciting to another. For example, my five-year-old Australian Shepherd, Riker, is not at all distracted by birds, but birds are a big distraction to my younger Aussie, Bashir. However, friendly people distract Riker and do not faze Bashir at all.
When you realize what distracts your dog, you can begin working with these things, one at a time. As you do, plan ahead and make sure you can set your dog up to succeed. Don't add so many distractions that your dog cannot succeed. Failures reproduce quickly and will hamper your training.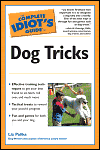 Excerpted from The Complete Idiot's Guide to Dog Tricks © 2005 by Liz Palika. All rights reserved including the right of reproduction in whole or in part in any form. Used by arrangement with Alpha Books, a member of Penguin Group (USA) Inc.
To order this book visit the Idiot's Guide web site or call 1-800-253-6476.