Dog Training with Distractions
Here is an example of working with distractions during heeling. If your dog has been heeling nicely, you have probably cut back on many of the lure treats for the Watch Me. When adding distractions, you will use those treats again.
Have your dog on leash, sitting in the Heel position. Have some treats in your pocket and in your right hand. Make sure you have some really good treats that you know your dog likes.
Ask a friend or neighbor to sit on the grass nearby with a tennis ball. She can roll the ball, toss it from hand to hand, or bounce it.
Have your dog watch you, and when you have his attention, tell him, "Fido, Heel!" and walk a large circle around your friend.
When your dog looks at the tennis ball, show him the treat again and repeat the Watch Me command. When he looks back at you, praise him!
When he's focused on you and is ignoring the ball, stop, have him Sit, and praise him enthusiastically.
Repeat this exercise, making the circle smaller, reversing direction, and challenging your dog to pay attention to you. When he does well, praise and reward him. When he loses focus, bring him back with the Watch Me and praise.
Repeat for a total of five repetitions and take a break.
Troubleshooting
If you cannot get your dog's attention with the Watch Me command, ask your friend to stop moving the ball. Have your dog Sit with his back to the ball, and do a Watch Me. Bend over, move the hand with the treat, and work to get your dog's attention back on you. When his eyes move to you, praise him and pop the treat in his mouth right away. Don't ask him to Heel again until he's calm and focused.
Some common canine distractions include …
Other dogs, especially dogs in motion: running, playing, sniffing, or even other dogs training.
Other animals, including cats, rabbits, ferrets, and squirrels.
Food, both dog foods and human foods.
Moving objects, such as balls, Frisbees‰, bicycles, and skateboards.
Children playing.
As you begin training with distractions, try to control when and where you encounter them, especially those that really stimulate your dog. For example, if kids running and playing are a big distraction, begin exposing your dog down the block from the local school. Your dog will know the kids are there and might hear them playing but won't be able to see them. Later, when he's no longer distracted there, you can move a little closer to the school. Later still, you might train in front of the school. Training with distractions makes your training stronger but only when your dog is able to succeed.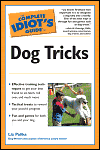 Excerpted from The Complete Idiot's Guide to Dog Tricks © 2005 by Liz Palika. All rights reserved including the right of reproduction in whole or in part in any form. Used by arrangement with Alpha Books, a member of Penguin Group (USA) Inc.
To order this book visit the Idiot's Guide web site or call 1-800-253-6476.