Knowing Your Dog's Breed Heritage
Every dog breed in existence was designed for a particular purpose. Some breeds were guard dogs, several breeds protected domestic animals from predators, and others hunted vermin. Rottweilers herded cattle and pulled wagons; Border Collies herded sheep; Dachshunds hunted badgers. If there was a job to do, a dog did it.
By breeding dogs for specific jobs, several unique abilities and limitations were bred into them. The dogs bred to pull wagons are calm, steady, and strong. Those who herded sheep have good vision, and are quick and athletic. The characteristics bred into your dog have a great deal to do with how he will react to training and his ability to do what you ask him to do.
Bet You Didn't Know
Australian Shepherds are not from Australia but instead were developed in the American west as all-purpose farm and ranch dogs. They enjoy participating in dog sports.
The dogs classified as herding dogs (which includes Border Collies, Australian Shepherds, both Corgis, and Shetland Sheep-dogs) are quick learners, intelligent, and thrive when given something to do. These dogs are more apt to get into trouble when bored. Most take to trick training quickly and easily.
The working dogs include Rottweilers, Great Pyrenees, and Alaskan Malemutes. These dogs were all bred to perform a job; some of those jobs were very specific. Although most of these breeds are easily trained, some can also have a strong stubborn streak. Finding what motivates these dogs is the key to training them.
Bet You Didn't Know
Labrador Retrievers have been the most popular dog in the United States for several years. They have surpassed German Shepherds as the favorite breed for guide dog and service dog work.
The sporting dogs (which includes all of the retrievers and setters) were, for the most part, bred to run, swim, and retrieve birds for their hunting masters. These are energetic, active dogs with excellent scenting abilities. Most sporting dogs enjoy training, although they can also be easily distracted, especially when young.
The hounds are hunters. Scent hounds (such as the Beagles and Bassets) follow their nose, while sighthounds (Greyhounds and Salukis, for example) use their vision. Both types of hounds can be very single-minded; nothing matters except finding that prey. This can make training a challenge, but it's certainly not impossible; you just have to find the motivator that will keep your hound's attention.
Terriers (including the Cairn, Norfolk, and Norwich terriers) are also hunters—and fierce ones at that. Most were designed to hunt vermin (mice and rats) and so are fast, agile, and persistent. Terriers love training that is fun and not overly harsh; they take to trick training easily.
Bet You Didn't Know
Parson and Jack Russell Terriers are very popular, thanks, in part, to Eddie on the television show Frasier. These dogs are intelligent, active, and very busy!
Bet You Didn't Know
One of the original occupations for the Bichon Frise was that of circus dog. These small fluffy white dogs performed a variety of tricks in small circuses that traveled through Europe.
Most of the toy breeds were bred to be companions. Although some, including Papillons, were also mousers, others were alarm watch dogs (they barked to warn of intruders but didn't bite). Most toys take to trick training quickly and enthusiastically. They love applause and enjoy the spotlight.
The breeds relegated to the American Kennel Club's Non-Sporting Group are quite different from each other. This group has become a catchall for breeds that didn't seem to fit into the other categories. This makes generalizations hard, as each of these breeds is quite unique. If your dog is a part of the non-sporting group, do some breed research to find out what the breed was originally designed to do; this will help you understand your dog a little better.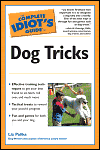 Excerpted from The Complete Idiot's Guide to Dog Tricks © 2005 by Liz Palika. All rights reserved including the right of reproduction in whole or in part in any form. Used by arrangement with Alpha Books, a member of Penguin Group (USA) Inc.
To order this book visit the Idiot's Guide web site or call 1-800-253-6476.