Set Goals When You Teach Tricks to Your Dog
You should be setting two different types of goals. Long-range goals are those things you would like to eventually accomplish. Those might include:
Putting together a trick routine for future therapy dog visits.
Designing a trick routine and costumes for an upcoming community canine trick-training contest.
Developing a number of different tricks that you and your dog can have fun performing for your own amusement.
Doing trick training as a fun intermission between obedience training sessions.
Using trick training as a means to deepen the relationship with your dog.
Long-range goals can be posted on your calendar or daily planner in a spot where you will see them often. Each time you see this goal, it will help keep you thinking about it.
Dog Talk
Short-range goals are training steps; a daily goal might be one, two, or even three training steps. Long-range goals are tricks or commands you are working toward that will take some time and effort to accomplish.
Short-range goals are much more immediate and might be individual training steps. For example, you might decide that a reasonable goal today would be to have your dog sit on command the first time you ask and to hold it for ten seconds. Your goal tomorrow might be to have him sit for fifteen seconds.
If you try to remember what you're doing, and how your dog responds, from training session to training session, you will make mistakes. Our memories are notoriously flawed and we have a tendency to remember what we want to remember.
To avoid problems, you need to keep track of your training progress and your goals. You can use a diary or a journal, or even make notes in your daily planner. Consider a format such as this:
Date and time of training session: _______________________
Exercise or trick being taught: __________________________
First training step attempted today: ______________________
How many repetitions? ________________________________
How did the dog respond? _____________________________
How did I change the training to suit that response? ____________________________________________________
Keep notes for each training step as you teach it. You can then review your notes later to make sure you're heading in the right direction. Or you can make adjustments should you get distracted or confused.
You can also make notes as to the types of treats or other positive reinforcements used during each training session. You can then go back and see if any specific reinforcements continually worked better (or worse) than others.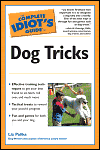 Excerpted from The Complete Idiot's Guide to Dog Tricks © 2005 by Liz Palika. All rights reserved including the right of reproduction in whole or in part in any form. Used by arrangement with Alpha Books, a member of Penguin Group (USA) Inc.
To order this book visit the Idiot's Guide web site or call 1-800-253-6476.