Teach Your Dog to "Shake Hands"
This trick consists of teaching your dog to offer a paw so that you (or someone else) can Shake hands with him. The only equipment needed is your dog's leash and some good treats.
With your dog on leash, hold the leash in your left hand along with some treats. Have your right hand empty.
Depending on the size of your dog, bend over, sit, or kneel in front of him. You need to be able to reach his paw.

Dog Talk

Shake means lift your right paw toward me so we can touch hand to paw.

Troubleshooting

Some dogs are not ticklish and will not lift their paw when you try to tickle it. For these dogs, lift the paw in steps 3 and 4 of this trick.

With your right hand, reach his right paw, and with one finger, tickle the hollow behind his paw (most dogs are ticklish there).
As he lifts his paw slightly, tell him, "Fido, Shake!" Touch his paw with your hand, and praise and reward him.
Repeat for a total of five times.
At your next training session, repeat all five steps.
Your goal is to teach your dog to lift his paw toward your hand when he hears "Fido, Shake," so watch for him to begin lifting his paw toward your hand as you reach toward him. When he does, offer him a jackpot reward: more treats, enthusiastic praise, and some petting. At each subsequent training session, withhold the rewards for a second or two until he is reaching toward your hand a little more each time.
Offering the Other Paw
When your dog will shake hands (and paws!) well each time you ask, reaching that paw out toward your hand, you can then teach him to offer the Other Paw. When alternated with the shake trick, this makes your dog look very smart. People will be amazed that he knows the difference!
You will train this trick exactly as you did Shake, except reverse hands and paws. You will reach with your left hand toward your dog's left paw. Follow the same training steps; most dogs pick this up very quickly. As you train this trick, do not train Shake at the same time; you will confuse your dog. Instead, drop the Shake while training the Other Paw.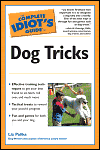 Excerpted from The Complete Idiot's Guide to Dog Tricks © 2005 by Liz Palika. All rights reserved including the right of reproduction in whole or in part in any form. Used by arrangement with Alpha Books, a member of Penguin Group (USA) Inc.
To order this book visit the Idiot's Guide web site or call 1-800-253-6476.