Teach Your Dog to "Shake Hands"
Dog Talk
Whereas Shake means offer me your right paw, Other Paw means offer me your left paw.
Troubleshooting
If your dog tries to lift his right paw to your left hand, pull your hand back; do not shake his paw. When his paws are back on the ground, repeat the training step to his left paw.
When your dog knows Other Paw well and will do it on command, then you can bring back Shake. Challenge your dog to listen and respond correctly. Ask him to Shake, then Other Paw, then Shake again. Reward each correct response. Then do three Shakes and two Other Paws, and then at another training session, four Other Paws and one Shake. Make a big fuss over him when he can follow your commands and do five repetitions correctly. "Yeah! Super Dog!"
Waving at Adoring Fans
The Wave is a great trick for showing off. Therapy dogs can wave good-bye at the people they have visited and you can ask your dog to wave at guests leaving your house. It's also a fun trick to combine with other tricks as part of a routine.
Dog Talk
Wave means lift your paw as high as your shoulder and move it up and down as if waving.
For this trick your dog must be able to Sit on command and hold still, and Shake paws on command. The only equipment you need are a leash and some good treats.
With your dog on leash, hold the leash in your left hand as well as some treats. Have your right hand empty.
Have your dog sit in front of you. Reach toward his paw as you tell him, "Fido, Shake."
As his paw moves toward your hand, pull your hand back so his paw just touches the tips of your fingers, and at the same time tell him, "Fido, Wave!" Praise and reward him.
Repeat for a total of five repetitions.
At your next training session, repeat the four steps for five repetitions. Begin emphasizing, "Fido, Wave" rather than Shake. "Fido, Shake. WAVE! Shake."
If your dog is reaching well toward your hand, begin lifting your hand higher so he has to reach higher than he did for the Shake. Continue having him just brush the tips of your fingers. Stop saying Shake and tell him only, "Fido, Wave!"
Bet You Didn't Know
As you're teaching this trick, make sure your dog is praised and rewarded when his paw is in the air. If you reward him late, he might think he's being re-warded for putting his paw back on the ground rather than waving it in the air.
Repeat these training steps for five repetitions each for two to three training sessions.
When your dog is reaching well, begin pulling your hand back completely when he is reaching up. Praise him enthusiastically when he completes the Wave without touching your hand.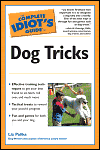 Excerpted from The Complete Idiot's Guide to Dog Tricks © 2005 by Liz Palika. All rights reserved including the right of reproduction in whole or in part in any form. Used by arrangement with Alpha Books, a member of Penguin Group (USA) Inc.
To order this book visit the Idiot's Guide web site or call 1-800-253-6476.