Train Your Dog to Crawl for Applause
The Crawl is an easy trick for most dogs to learn and is a great one to combine with a costume or as a part of a trick routine. There are no size limits on this trick; big dogs and little dogs can do this equally well.
Dog Talk
The definition of the Crawl is lay down on the floor or ground and move forward without getting up.
For equipment, you need your dog's leash, some good treats, and a low table (such as a coffee table) or a bench (like a picnic table bench). Place the table or bench in an area where you and your dog have room to move around it. Make sure nothing is on it just in case your dog stands up underneath it and tips it over.
Have the leash on your dog and hold it in your left hand. Have some treats in your pocket and a few in your right hand.
Sit your dog in front of the table and then touch the table, rocking it a little so your dog notices it and is not worried about it.
Then have your dog lie down with his head close to the table.
From the same side of the table the dog is on, tell him, "Fido, Crawl" and reach under the table with your right hand (treat in the hand) so you can guide him under the table. If the table is low enough, it can keep him from standing up.
When he comes out from under the table at any point (where he went in, to one side, or all the way under to the other side), praise him, "Yeah! Awesome job!" and reward him.
Do a total of five repetitions, and then give your dog a break.
Repeat the first six steps during your next several training sessions.
When your dog will crawl nicely, without hesitation, move on to the next step.
Have your dog lie down on one side of the table and leave him, going to the opposite side. Kneel down so you can see him.

Troubleshooting

If your dog is worried about the table, have him lie down and instead of having him crawl under something, simply place your left hand on his shoulder to keep him from popping up. Use the left hand and treat to lure him forward.

Tell him, "Fido, Come! Crawl!" and show him the treat.
When he begins crawling, praise him, and when he comes out the other side, give him a jackpot of praise and treats.
Repeat for a total of five repetitions.
As your dog learns Crawl, you can stop using the Come command, and emphasize the Crawl command alone.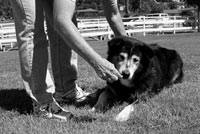 When teaching the Crawl with the hand on
the dog's shoulder, keep the hand with the
treat right in front of the dog's nose.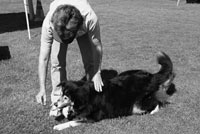 Move the treat forward so your dog tries to
follow it. The hand on the shoulder keeps
him from getting up.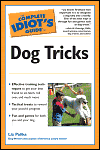 Excerpted from The Complete Idiot's Guide to Dog Tricks © 2005 by Liz Palika. All rights reserved including the right of reproduction in whole or in part in any form. Used by arrangement with Alpha Books, a member of Penguin Group (USA) Inc.
To order this book visit the Idiot's Guide web site or call 1-800-253-6476.