Dog Tricks: Dancing Dog
Dog Talk
Dance means stand on your back legs and dance.
Down, Boy!
Dance is a demanding, physically difficult trick. Do not ask dogs with back or hip problems, or dogs with arthritis, to do this trick.
This is an active trick for strong, healthy dogs who like to move. Although dogs of all sizes can do this trick, Dance is not for dogs with hip or back problems, dogs with arthritis, or heavy-bodied dogs. There are plenty of other tricks those dogs can do, so leave this one to the lighter-bodied, athletic dogs.
The only props you need for this trick are some treats, but because this trick is hard, make sure you have some really good treats and vary those treats from training session to training session so they are always exciting.
Review the Stand before beginning this trick as your dog will start the trick from the Stand, not the Sit.
With your dog standing in front of you, let him sniff the treat.
Take the treat over your dog's head. He may look at it, sniff upward, and maybe even jump for it. Ignore those behaviors.
When he stands up on his back legs, tell him, "Fido, Dance!" Praise him and pop the treat in his mouth. (Make sure he gets the treat when he's up on his back legs, not when his front legs are back on the floor. You may have to toss it.)
Repeat for a total of five repetitions.
Repeat these steps over several training sessions.
After several days and several training sessions, when he is coming up easily for the treat and seems to understand the command, back away one step so that he hops for the treat. Only ask him to make one hop. Praise and reward him.
Troubleshooting
Some dogs are worried about standing upright. If your dog appears concerned, switch treats and use something really good that he loves, like hot dogs! Hold the treats closer to his nose and get him concentrating on the treats. He'll stand tall!
Your goal is to have your dog stand upright and make a few hops so that he appears to be dancing. Those hops can be forward toward you, or if you move around, the hops can be following you. Ask for more hops very, very gradually over several weeks of training. You want to build your dog's back and hip muscles so he can do this without hurting himself.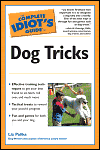 Excerpted from The Complete Idiot's Guide to Dog Tricks © 2005 by Liz Palika. All rights reserved including the right of reproduction in whole or in part in any form. Used by arrangement with Alpha Books, a member of Penguin Group (USA) Inc.
To order this book visit the Idiot's Guide web site or call 1-800-253-6476.