Teaching Your Dog to Jump Safely
Although almost all dogs can jump (other than those with physical disabilities), it is important that they also jump safely. It's too easy for a dog to hurt himself jumping, especially in the enthusiasm of learning some new tricks.
Down, Boy!
Dogs with leg, hip, elbow, or back problems should not be asked to Jump until they have been examined by their veterinarian. Low jumping can be good for many dogs, building muscle tone and strength, but get your veterinarian's okay before beginning any of these tricks.
When introducing both jumping and new tricks, keep the jump heights low. Ankle height is great in the beginning. After all, the emphasis is on the new tricks, not the height of the jumps. Repeated low jumps will help your dog build muscle tone, especially if he hasn't done much jumping recently. Later, after weeks of low jumps, you can gradually increase the height of the jumps, but in most cases there is no need for the dog to jump any higher than his shoulder height. Heavy-bodied breeds (such as Bassets and Newfoundlands) shouldn't jump any higher than two thirds of their shoulder height.
Some athletic breeds can jump one and a half to two times their height with no problems. If your dog is very athletic and very fit, it's fun to try that once in a while, but don't ask him to do it often. The potential for injury is too much.
Be aware of the surface where you're asking your dog to jump. The best is soft, level grass that will provide traction and will also cushion the landings, but other surfaces such as loose dirt or sand are also okay. Just make sure your dog has good traction and will not slip while taking off or landing, and make sure the landing surface is not hard. Asphalt or concrete is too hard; your dog may injure his shoulders after repeated landings.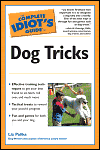 Excerpted from The Complete Idiot's Guide to Dog Tricks © 2005 by Liz Palika. All rights reserved including the right of reproduction in whole or in part in any form. Used by arrangement with Alpha Books, a member of Penguin Group (USA) Inc.
To order this book visit the Idiot's Guide web site or call 1-800-253-6476.