Dog Tricks: Jumping Over a Stick
Dog Talk
The command to Jump can be "Fido, Jump" or "Fido, hup."
This trick teaches your dog the command to Jump which, once known, can be easily transferred to other objects. In addition, once your dog knows how to jump the stick, it can be used as a trick by itself or in conjunction with other tricks as part of a trick routine.
You will need a jumping stick for this trick. A 48-inch-long dowel that is one inch in diameter (found in hardware stores, craft stores, or lumber yards) works well. You can paint the dowel white for visibility or use colored duct tape to make stripes on it. You will also want to have some good treats.
Have your dog Sit by your left side in the Heel position. Hold the stick in your left hand and treats in your right.
Tell your dog to Stay and take a couple of steps away from him, then turn and face his path of travel should he walk straight ahead.
Place the stick ahead of you diagonally across the dog's path of travel—that is, with the tip of it on the ground and your hand holding it. (Imagine using the stick to point out something on the ground.) Hold the stick at about one quarter the dog's height at the shoulders.
Show your dog the treat in your right hand on the far side of the stick and encourage him to come get it.
When he begins to jump (or step over) the stick, tell him "Fido, Jump!" and praise him. (Do not tell him the command before he does it or he may go around or stop, thereby learning those words mean something else.)
Repeat for five repetitions and take a break.
Troubleshooting
If your dog hesitates to go over the stick, drop it to the ground and Heel over it several times. Show him the stick is harmless.
Repeat these steps for several training sessions over several days. When your dog is moving easily toward the stick and is hopping over it, hold the stick completely parallel to the ground at the same height as before.
At this point you can also begin decreasing the hand signal with the treat. Most dogs take enough pleasure in jumping that they usually don't continue to need a food reward. The jumping and verbal praise are enough.
Troubleshooting
If your dog tries to duck under the stick, you're making it too high too soon. Lower it, get your dog jumping it again, and then in-crease the height very gradually.
When the dog no longer requires the treat and hand signal, and is jumping easily, begin moving the stick around. Hold it in front of you, to the side, and bring it down in front of the dog as he's heeling. You can also increase the height now. Teach your dog to hop over it wherever he sees it and hears the Jump command. Be liberal with your praise.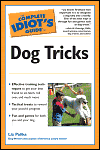 Excerpted from The Complete Idiot's Guide to Dog Tricks © 2005 by Liz Palika. All rights reserved including the right of reproduction in whole or in part in any form. Used by arrangement with Alpha Books, a member of Penguin Group (USA) Inc.
To order this book visit the Idiot's Guide web site or call 1-800-253-6476.