Dog Tricks: Jumping Through a Hoop
When your dog can jump a stick easily (the easiest of the jumping tricks), you can teach him to jump through a hoop. The command to Jump is the same as for the stick.
I use the plastic hoops found in toy stores for $3 to $5. Some are Hula Hoops‰ although some are sold under other names. Some of the hoops have little things inside the plastic hoop that make rattling noises. If the hoops you buy do, you'll have to introduce your dog to the hoop and its noises before you teach him to jump through it. If you don't introduce him to the noise, your dog may be startled by it and will avoid the hoop.
To introduce your dog to the hoop, put it on the ground and walk him over it several times. Then kick the hoop, making it move and rattle, and then walk your dog over it again. Ask your dog to Heel and carry the hoop in your right hand, keeping it still at first and then swinging it so it rattles. When your dog doesn't care about it anymore, you can start your jumping training.
You will need one hoop and some treats.
Have your dog Sit in the Heel position. Tell him to Stay and walk a couple steps ahead of him, then turn to face his line of travel.
Hold the hoop in your left hand with the bottom resting on the ground.
Hold a treat in your right hand and place it at your dog's nose level in the center of the hoop.
Encourage your dog to come get it.
As he begins to hop or step through the hoop, tell him, "Fido, Jump!" and pull your hand back so he comes all the way through. Praise and reward him.
Repeat for a total of five repetitions and give him a break.
Repeat these steps for several training sessions over several days. You will find your dog picking this up very quickly; after all, he did the same thing with the stick, so he's already comfortable with the Jump command. As soon as he's jumping easily, decrease and then stop the treat and hand signal. Emphasize your verbal command and praise.
When he's jumping easily and is not trying to avoid the hoop, begin moving it around, just like you did with the stick. Vary the hoop's position and height and encourage your dog to jump through wherever you hold it.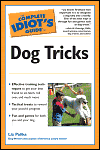 Excerpted from The Complete Idiot's Guide to Dog Tricks © 2005 by Liz Palika. All rights reserved including the right of reproduction in whole or in part in any form. Used by arrangement with Alpha Books, a member of Penguin Group (USA) Inc.
To order this book visit the Idiot's Guide web site or call 1-800-253-6476.