Dog Training: "Heel" and "Other Side"
This trick will have your dog moving from the Heel position on your left side to the same position on your right side, which I call Other Side, and then back again. When the dog understands this trick, he can go from one side to the other every few steps as you walk. When performed with precision and enthusiasm, this is a very impressive trick.
Dog Talk
Other Side means the Heel position (the dog's neck and shoulder next to your leg), but on your right side instead of the left.
The only equipment you need for this trick is a leash and some really good treats. This is the time to dig out those special treats—the freeze-dried liver or diced cheese. The good treats will help focus your dog's attention on you and will serve as a good lure.
Begin by having your dog Sit by your left side in the Heel position, with the leash on him. You're going to have him move from your left side to your right, passing behind you, as you walk forward.
Have both the leash and the treat in your left hand.
Show your dog the treat as you tell him, "Fido, Watch Me!" Praise him.
Tell your dog, "Fido, Heel" and walk forward, slowly, so you can coordinate your actions.
Pass your left hand behind your back, transferring the leash and treat to your right hand as you tell your dog, "Fido, Other Side."
As soon as your dog begins to follow your hand, praise him so he knows he's doing the right thing.
Bring your right hand (and your dog) forward so the dog is walking in the Heel position on your right side.
As soon as your dog reaches that position, praise him enthusiastically and pop the treat in his mouth.
Troubleshooting
If your dog Heels well, he might be reluctant to move from the Heel position. In these instances, walk forward after saying "Watch Me" and do not say "Heel." Use the treat to lure your dog behind you as you say "Fido, Other Side." As soon as your dog begins to move, praise him!
Down Boy!
Be careful with toy breeds when training this trick. Most learn to steer clear of walking feet. Make sure your tiny dog doesn't get kicked or stepped on.
If your dog is reliable off leash and does a very good Watch Me, you can train this trick off leash, moving the treat behind you from hand to hand. It's a little easier than transferring the leash, too. However, if your dog is not attentive to you, or is easily distracted, use the leash.
Practice for several training sessions just having your dog move from the left side to the right side. When your dog understands and is moving without hesitation, begin to decrease the hand signal.
Begin with a treat in each hand, and your dog off leash or with his leash folded and tucked into his collar so that you and your dog both can move freely.
Tell your dog "Fido, Watch Me." When you have his attention, say "Fido, Heel" and walk forward. Praise him as he does.
After a few steps, say "Fido, Other Side" and move your left hand backward as you've been doing.
As your dog moves back, reach back with your right hand, showing your dog the lure in that hand, and at the same time bring your left hand forward. By doing this (and not handing the treat from hand to hand), you are decreasing the left hand signal.
With the right hand, bring the dog up into position on your right side, praise him, and pop the treat in his mouth.
As your dog gains more confidence, you can decrease the hand signals until you can simply move one finger on your left or right hand (a flick of the finger) as you give the verbal commands and your dog will change position.
When your dog will move from the Heel position (on the left) to the Other Side position (on the right) easily, without the leash, and showing no signs of confusion, you can teach him to move from the right side back to the left. This is usually much easier, as he already understands what "Heel" means and where the Heel position is. Use the same training steps as you did before, simply reversing them.
When your dog will go back and forth from the left side to the right, and then back again on command, you can speed things up. Ask your dog to transfer sides every ten steps or so. As your dog gets better and gains confidence, he can change sides even more quickly. Kelsey, a yellow Labrador Retriever owned by Rick Hawes of Ocean-side, California, can change sides every other step. She does so enthusiastically, head up, tail wagging furiously, watching Rick intently. Rick says, "This is one of Kelsey's favorite tricks, and she can bounce back and forth almost as fast as I can give her the command and signal. I think one of the reasons she likes it so much is because it's fast; we have a lot of fun with it, and this trick never gets boring for her."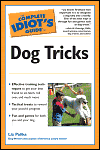 Excerpted from The Complete Idiot's Guide to Dog Tricks © 2005 by Liz Palika. All rights reserved including the right of reproduction in whole or in part in any form. Used by arrangement with Alpha Books, a member of Penguin Group (USA) Inc.
To order this book visit the Idiot's Guide web site or call 1-800-253-6476.