Dog Tricks: Teaching the Weave Command
The Weave command teaches your dog to wind through a variety of objects, curving his body, and to alternate directions as he does. The easiest way to teach the Weave is to use upright poles, but when your dog can do this trick, you can teach him to weave through poles, hula hoops, and even your legs.
Dog Talk
The Weave is always done with some obstacles, either poles, hoops, legs, or other objects that your dog can move around in a figure eight or serpentine pattern.
The trick-training Weave is similar to the Weave for agility competition. In agility, however, the dog must enter the weave poles in a specific position, and must move through the poles rapidly. In trick training, neither entry position nor speed are important. In addition, in trick training, we will use the Weave for more than just poles. So if you're also training your dog in agility, don't worry about the differences; this Weave is just for fun!
Your dog will need to know the Watch Me command for this trick and will need to be able to come to you reliably when you call him.
You will need some props for the Weave, including a dozen 24-inch-long plant stakes, either wooden or plastic, and a dozen 36-inch-long pieces of plastic pipe (all available at any hardware store). The pipe should be a wide enough diameter to slip over the plant stakes.
Down, Boy!
Although any dog of any breed or size can learn to Weave, it does require body agility and movement in the neck and shoulders, and could stress rapidly growing puppies or dogs with preexisting conditions such as arthritis.
The plant stakes will be pounded into the ground, and the pipes set over the stakes. The pipes, being white plastic, are easier to see than the stakes, and because they are simply set over the stakes and are not fastened down, can slip and turn as your dog brushes up against them, creating less stress and resistance.
Moving Through the Poles
To introduce your dog to the idea of moving through the weave poles, pound six of them into the ground, about eighteen inches apart, in a straight line. Make a second line of weave poles about eighteen inches from the first line, so that you have two parallel lines of poles, making a narrow lane.
Have a friend or family member hold your dog at one end of the two lines of poles. (Don't leave him in a Sit Stay, as you want him to be excited to come to you between the poles.) As you leave your dog, show him (and let him sniff) a really good treat.
Get him excited as you leave him, "Do you want this? I've got a treat!"
Go to the other end of the lines of poles and place yourself between the last two poles, directly opposite your dog.
Using an excited, happy tone of voice, call your dog to come, "Fido, Come! Yeah! Good boy!" (Make sure your friend knows to release your dog as you call him.)
As your dog dashes between the two lines of poles, praise him! When he reaches you, continue praising and pop that treat in his mouth.

Troubleshooting

If your dog appears to be concerned about moving through the poles, even when you call him, run him through a few times on leash, with both of you moving between the lines of poles.

Do this five times. When your dog is showing no problem running through the weave poles, reposition the poles so they are shoulder width apart and do this again five times.
Zigzagging Through the Poles
Have at hand some good treats to use as a lure, and begin with your dog on a leash. Pound four stakes into the ground in a straight line, about eighteen inches from each other. Slip a plastic pipe over each.
Have your dog in the Heel position with the both of you standing in front of the first pole. Have the dog's leash in your left hand and treats in your right hand.
Step toward the gap between the first and second pole, and reaching around the second pole, show your dog the treat so he steps between the poles. At the same time tell him, "Fido, Weave."
Using the treat, draw him around the second pole, praising him as you do. The treat is the lure to bring your dog around the pole and the hand movement is going to become a hand signal, which will mean Weave.
As he steps around the pole, make sure his leash doesn't get caught.
Continue in this manner, keeping your hand one pole ahead of him so you can lead him around each pole.
Praise him as he steps toward and around each pole.
When he finishes the fourth pole, praise him enthusiastically and pop the treat in his mouth.
Repeat this exercise three or four times and stop, giving your dog a break. Pet him, praise him, and throw the ball for him. Then go back to the poles and try it again. After several days of this routine, he should be weaving through the poles, following your hand, with more confidence.
Add two more weave poles to the line.
Take your dog's leash off, or fold it and tuck it under his collar.
Continue using the treat in hand as a lure, but move a little more quickly, using your voice to encourage your dog to follow, "Weave! Good boy! Yeah!"
When he finishes the line of poles, praise him and pop that treat in his mouth.
Over the next few weeks, gradually add more poles until your dog is weaving through all twelve. As you add poles, continue using the hand signal with the treat in front of your dog, and keep the excitement level high with praise and encouragement.
When your dog can Weave through all twelve poles easily, with no hesitation, keep the treat in your pocket while giving the hand signal for the Weave. The hand signal can be as simple as pointing to the spot between the poles where you want your dog to Weave. Give him the treat after he finishes all twelve poles.
Eventually, as your dog gains confidence, you will be able to point at the line of weave poles and simply say, "Fido, Weave," and your dog will zigzag through the entire line of poles.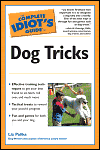 Excerpted from The Complete Idiot's Guide to Dog Tricks © 2005 by Liz Palika. All rights reserved including the right of reproduction in whole or in part in any form. Used by arrangement with Alpha Books, a member of Penguin Group (USA) Inc.
To order this book visit the Idiot's Guide web site or call 1-800-253-6476.