Dog Tricks: "Go Get the Newspaper!"
I am not a morning person; in the morning I am rumpled, often grumpy, and not at all neighborly. Because all our local newspapers are delivered early in the morning, I want to spare my neighbors the sight of me shuffling out to get them while I'm half awake. I just send Dax out for the papers. This has been her job for most of her life and I love it. I'm sure my neighbors appreciate it, too.
Getting the newspapers is not hard. The papers are easy for the dogs to pick up when they are fastened with string or rubber bands; even in the plastic bags they're fairly easy for them to grab. The larger Sunday papers can be wide and heavy, but Dax won't allow us to help her bring those in; it's her job and she wants to do it!
Before you teach this trick (or job!) make sure your dog is reliable off leash. You don't want to send him after the newspapers and have him take off down the street. He should have a reliable response to the Come command when off leash. If you're the least bit worried, have him on a long leash while you do this.
To begin, take a section of newspaper (maybe ten pages) and roll it tightly. Fasten it with a couple of rubber bands or some duct tape.
Play tug-of-war with this to get your dog excited about it, "What's this, huh? Get It! Yeah!"
When he will grab the rolled paper and play tug-of-war with it, ask him to Give it, and then toss it a few feet away, telling him, "Fido, Get the paper!"
When he goes after it, praise him and encourage him to bring it back. Have him Give it to you and praise him again.
Repeat this for a total of five repetitions and take a break. After a short break, repeat the training steps again.
Repeat this over several days. If your dog is excited about re-trieving, he should pick this game up very fast. As he does, gradually increase the distance you toss the newspaper until you can throw it the length of your porch or driveway. Then stand where you would like to wait in the morning, and throw it to where the delivery person normally leaves it. Send your dog after it, praise him, and call him back.
When your dog is retrieving the thrown paper well, with no hesitation, take the next step of creating the actual morning scenario of the paper having been thrown without the dog's witnessing it. Leave your dog in the house and place the newspaper in the normal delivery spot outside. Go back in and send your dog for the paper. You might need to take a step or two forward with him, but if you have trained all the steps so far, he should go out after it eagerly. When he grabs the paper, praise him, "Yeah! Awesome job!"
After several training sessions over several days, begin varying the location of the paper so your dog learns to search for it. After all, the delivery person might have an off day and the paper could end up under your car or in the bushes; you want Fido to be able to find it wherever it's hidden.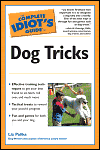 Excerpted from The Complete Idiot's Guide to Dog Tricks © 2005 by Liz Palika. All rights reserved including the right of reproduction in whole or in part in any form. Used by arrangement with Alpha Books, a member of Penguin Group (USA) Inc.
To order this book visit the Idiot's Guide web site or call 1-800-253-6476.