Teaching Your Dog Scent Discrimination
Scent discrimination is an advanced obedience exercise, a great trick, and a useful tool. You will be teaching your dog to use his nose to find an object you have touched from among several that you have not touched. Your dog must use his scenting abilities (something that comes naturally to most dogs) combined with the Retrieve.
You need six cotton gloves; inexpensive gardening gloves are fine. Wash and dry them. When they're dry, use tongs to put five of them in a plastic bag. Close the bag. The sixth glove will be the one you touch on a regular basis. Before each training session, rub the glove between your hands or rub it on your forehead so it has a good dose of your scent.
Bet You Didn't Know
If you accidentally touch one of the gloves that is supposed to be unscented, wash it again using some bleach. The dog's scenting abilities are very good; if you foul the gloves he will make mistakes.
Bet You Didn't Know
Why use the food scent when you want him to recognize your scent? The dog's scenting abilities are excellent, but that doesn't mean he understands yet what we want him to do. By combining a scent he's attracted to (cheese or hot dog) with our scent, we make sure he is sniffing (inhaling) our scent.
Play a little tug-of-war with the glove. Toss it a few times and ask your dog to Retrieve it. Make the glove fun.
Now, put a tiny bit of hot dog or cheese (or another strong-smelling treat) inside the glove. Rub a little of the treat on the palm of your right hand.
Have your dog Sit in the Heel position and hold his collar with your left hand.
Toss the glove a few feet away. Cup your right hand gently in front of your dog's nose so he can smell the treat on your palm, then move your hand away as you tell him, "Fido, Find Mine! Get It!"
If your dog hesitates (perhaps looking at your hand with the scent on it), use your left hand to urge him toward the glove.
When he sniffs the glove, praise him, and encourage him to bring it to you.

Dog Talk

Find Mine means find the object with my scent on it.

Praise him again and give him a treat.
Repeat for a total of five repetitions and take a break.

Repeat this way for several training sessions or until the dog is going out to the glove eagerly and bringing it back with no hesitation.

Now, using the tongs, take one of the unscented gloves and place it on the ground.
Sit your dog in the Heel position, tell him Stay, and place the scented glove (with a tiny treat inside) about six inches from the unscented glove.
Send your dog after you let him sniff your palm, telling him, "Fido, Find Mine!"
If he chooses the wrong glove, tell him to Give it and take it from him with the tongs, replace it on the ground, and take him back to the starting position. Repeat the steps, this time moving with your dog so you can encourage him to sniff the correct glove.
When he sniffs, praise him! When he picks up the correct glove, back away and encourage him to bring it with him. Complete the exercise and repeat it for a total of five repetitions.
Troubleshooting
If your dog dashes out and grabs any glove, without sniffing, you can anchor the unscented gloves. If you're training outside, bend some stiff wire and force it into the ground so the gloves are held down. If you train inside, place the gloves on a piece of pegboard and use ties to hold them to the board.
Over several training sessions, vary the position of the glove with the scent. Sometimes have it on the right, sometimes on the left; place it in front of the unscented glove or farther away. When your dog will go out to the gloves, sniff them both, and choose the correct one, you're ready to move on.
Add one new unscented glove at a time, adding another when the dog is doing well and continuing to choose the correct glove. Eventually you should be able to have five unscented gloves on the ground with one scented one.
Bet You Didn't Know
When your dog will do this well with the cotton gloves, you can train with other items. Use six pieces of wooden dowel, six clean soda cans, or the professional obedience competition scent article, dumbbells.
Then, begin decreasing the hot dog or cheese scent. For several training sessions, continue to have some scent on your palm but just a little; just touch the treat to your palm and then touch the treat to the glove, but do not put a treat inside the glove. When your dog is succeeding at this level, then stop touching your palm and the glove with treats; instead, just use your own body scent. Let your dog smell your palm and send him for the glove you have touched.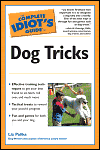 Excerpted from The Complete Idiot's Guide to Dog Tricks © 2005 by Liz Palika. All rights reserved including the right of reproduction in whole or in part in any form. Used by arrangement with Alpha Books, a member of Penguin Group (USA) Inc.
To order this book visit the Idiot's Guide web site or call 1-800-253-6476.