Thinking Up Jobs for Your Dog
The vast majority of dog breeds in existence today were bred to do a job. Australian Shepherds were designed to assist the shepherd or rancher; Rottweilers pulled wagons; Great Danes protected property. The list goes on and on.
Today many of these dogs are mainly pets. However, they still have the instincts to work. Many dogs get into trouble in the house and yard because they feel like they should be doing something, and they have nothing to do. When you give these dogs a job to do on a regular basis, they are thrilled, and very often problem behaviors decrease significantly.
Asking your dog to help around the house doesn't necessarily make things easier for you. After all, it would only take you a few minutes to pick up the damp towels on the bathroom floor and put them in the hamper. It will take twice as long to have your dog pick up one, carry it to the hamper, then go back for the other one and do the same thing. But sharing chores is always fun, and by teaching your dog to do it with you, you have the satisfaction of successful training, and of watching your dog take pleasure in doing something for you. Plus, you can always share with friends the fact that your dog picks up after your spouse!
Your Dog's Strengths
When deciding what types of jobs would be good for your dog, consider his strengths and abilities. If your dog had a hard time learning the Retrieve, don't focus on chores needing a good Retrieve. If your dog has a wonderful nose and likes to use it, teach him to find items you commonly lose.
Some questions to consider include the following:
Does your dog like to retrieve? He could find and bring back to you items you dropped or lost, and could bring things to you that you want, such as your slippers.
Does he use his scenting abilities a lot? Teach him to find things and people by name, and to take things to people.
Does he like to think? Does he learn easily? These dogs can be taught more complicated tasks, including turning lights on and off, and getting a bottle of water from the refrigerator.
Down, Boy!
Be careful what you teach your dog. If he's too food motivated, don't teach him to open the refrigerator. If he has a hard mouth and likes to chew, don't have him retrieve delicate or expensive items.
Does he like to be close to you? These dogs should work with you instead of at a distance. Dogs who like to be close would be un-comfortable being sent away to do something.
By focusing on his strengths, you can make training much easier.
Your Needs
Granted, this training is for fun, but keep in mind everyone can use some help now and then. As I mentioned in earlier chapters, my dog, Dax, gets the newspapers every morning.
My five-year-old Aussie, Riker, knows how to brace himself to give me some support when I stand up from sitting or kneeling. I have a bad knee and sometimes it gets stiff. Riker will stiffen up, bracing himself, and take some of my weight on his shoulders. He holds that position until I'm up and no longer putting any weight on him.
Both Dax and Riker retrieve items for me, those I've dropped and those I've misplaced. Now, I am fully capable of bending over and picking these things up, and I don't lose nearly as many things as I send the dogs for; it's just fun to let them help!
So take a look around your house and yard, think about your daily routine, and decide where you could best incorporate your dog's efforts. Of course, think, too, about your training abilities. Training your dog to help you could challenge your ability to train your dog, and that's good! You can both learn as you go along.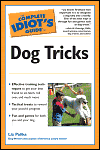 Excerpted from The Complete Idiot's Guide to Dog Tricks © 2005 by Liz Palika. All rights reserved including the right of reproduction in whole or in part in any form. Used by arrangement with Alpha Books, a member of Penguin Group (USA) Inc.
To order this book visit the Idiot's Guide web site or call 1-800-253-6476.