Costumes for Dogs
I have an assortment of bandannas for my dogs for holidays throughout the year. On patriotic holidays, they wear red, white, and blue; at Christmas they have holiday bandannas; and at New Year's they wear shooting stars. Usually, they wear these to therapy dog visits and to my dog training classes, but occasionally they will wear them on walks or other outings.
I have found that something as simple as a bandanna can make people smile. People who might not normally like dogs, as well as people having a bad day, will smile, laugh, and reach out to pet a dog wearing a bandanna.
One of our trainers at Kindred Spirits, Katy Silva, has a Rottweiler named Sasha. Sasha is a big Rottie with a wide chest and a broad head. Even though she is a warm, loving therapy dog, some people are worried about her, because of both her breed and her size. So Sasha often wears colorful bandannas and simple costumes. It's hard to think a dog is dangerous when she's wearing bunny rabbit ears!
Bet You Didn't Know
You can make bandannas for your dog from scrap cloth. Find some scraps in your craft leftovers or at your local craft or sewing store. Fold a square in half, drape it around your dog, and decide on the right size. Trim it to fit and hem the edges. That's it!
A friend of mine doesn't think dogs should wear clothes or costumes of any kind. He thinks they demean dogs. I understand his thinking; clothing and costumes should not be made to embarrass our dogs. But when used with a good heart, costumes can enhance what you do with your dog, from therapy dog visits to trick routines or even shows. If you like to dance with your dog, such as in the sport of freestyle, costumes are very much a part of the act. When introduced correctly, most dogs enjoy wearing something that makes them the center of attention.
Creating Costumes
Costumes can range from kids' costumes adapted to dogs to commercially created costumes for dogs or even homemade or sewn costumes. A decorative outfit for your dog can be as simple or as elaborate as you want to make it.
If you decide to adapt a child's costume into a dog's costume, get a larger size than you would think you'd need. A fifty-pound child and a fifty-pound dog have entirely different proportions; a child's costume of that size would be very restrictive and binding on the dog—depending, of course, on the costume. If the costume was extremely loose and wide (such as that of a pumpkin) it might still fit.
Bet You Didn't Know
A dog's chest is proportioned entirely differently from a child's. A child's chest is wide across (from arm to arm) and not very deep (from sternum to point of the shoulder). Dogs have deeper chests that are not very wide.
Children stand upright, and most children's costumes build in some leeway for height so that one costume might fit children of different heights and ages. Dogs have long bodies, usually longer than a child of the same weight, and the rear legs are proportionately wider, especially in the hips. Plus the dogs' forelegs don't necessarily correspond with the way a child's arms might move.
When you add in the fact that most kids' costumes have their decorations on the front (which would be under the dog's belly), it would seem that converting a costume would be a lost cause, but that's not necessarily so. Many kids' costumes can be made over for dogs.
Take a look at the costume itself. How is it designed? If it's one piece, you have less leeway for conversions; two-piece outfits are easier. But even one-piece costumes can be used if the design will allow you to fit it. Can you make discrete slits in the costume? A slit at each leg could give your dog room to move. Or can you make it into two pieces by separating the top from the bottom, perhaps at the waist? Sometimes you can add more room over the hips and shoulders by inserting pieces of fabric at those points.
Down, Boy!
A dog's costume must not restrict freedom of movement. The dog's head, four legs, and tail should be able to move easily.
Some kids' costumes can be worn backward by the dog, so the decorated part is on the dog's back where it's visible. Again, depending upon the design, you might need to make some changes to get it to fit like this.
Costumes specifically made for dogs are obviously much easier to fit because they're designed for a dog's shape. The manufacturers usually provide guidelines as to how to fit these costumes; many require measurements of the chest and waist as well as the dog's body length. If you can find these costumes at your local pet supply store, bring your dog with you and try the costumes on him. If you have to order via catalog or Internet, call a customer service representative and find out how to measure your dog.
If you like to sew or do craft projects, dog costumes can be as simple or as elaborate as you like. For example, here is how I made one for my Australian Shepherd, Dax:
At a discount store, I got a black child's T-shirt that fit her. I chose one made of a stretchy material so she could move without the shirt sagging.
While doing Halloween shopping, I got a witch's hat with a big pointy tip.
At a craft store, I got some gold glitter glue, two yards of clingy, filmy black material, and two yards of half-inch-wide elastic.
I measured Dax's back from the point of her shoulder to the tip of her hips.
I cut the material into a long length as wide as that measurement.
I gathered one long side of the material and stitched it so it kept that gather.
I used some of the elastic to make a tie to fasten around Dax's neck and sewed that to the gathered material, leaving several inches on either side of the material as ties.
When draped over Dax, the gathers were around her neck, and the witch's cloak fell down her back and over each side.
I trimmed the sides so that they fell almost to the floor but not quite so she wouldn't step on it.
I then took a piece of elastic and fastened it to the hat so it would stay on the back of Dax's head (actually more on the top of her neck).
Taking the outfit off, I then used the gold glitter glue and decorated the cloak and hat.
With the black T-shirt underneath, she looked every inch the glamorous witch!
With homemade costumes, you are limited solely by your imagination!
Introducing a Costume
Introduce a costume slowly, especially if your dog has never worn one before. Use the training tools you have learned teaching your dog tricks. For example:
Put a small piece of the costume on him.
Praise him as soon as it touches him.

Bet You Didn't Know

After your dog has learned to wear a costume, and has been rewarded by the attention it generates, introducing each subsequent costume is easier.

Pop a treat in his mouth.
Immediately take the costume off of him and tell him what a wonderful dog he is!
Repeat for a total of five repetitions and take a break.
The costume piece might have only been on him a second, but that's okay. He will learn to associate the costume with praise and treats. Gradually, over several training sessions over many days, you can in-troduce the entire costume. The more elaborate the costume and the more hesitant your dog, the longer you need to take introducing it.
It's easy to get excited about a costume for your dog, but don't let that excitement overrule your common sense. Take your time introducing it, and let your dog get used to wearing the individual parts of it before you put it all together. When he can wear the entire costume at home, and will move around in it, practice his obedience commands while he's wearing it. Then ask him to do some tricks. Only then should you start taking him away from the house while wearing it.
Think Safety
Costumes can be attractive, make people laugh, and be a great addition to your trick training, but make sure each costume you ask your dog to wear is safe.
The costume should be easy to put on your dog. You don't want to have to force him into contortions to get it on.
The costume should be even easier to take off. If he gets tangled or panics, it should come off easily.
The costume should allow for easy movement of his head, all four legs, and tail.
The costume should not block his vision.
Your dog needs to be able to breathe freely through his mouth and nose.
There are a few other things to think about. Can your dog relieve himself while wearing the costume? This is a fact of life, and if he's going to be wearing it for a couple of hours, he might need to go. Plus, will he need to wear a leash and collar, and if so, how will the costume affect that?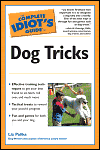 Excerpted from The Complete Idiot's Guide to Dog Tricks © 2005 by Liz Palika. All rights reserved including the right of reproduction in whole or in part in any form. Used by arrangement with Alpha Books, a member of Penguin Group (USA) Inc.
To order this book visit the Idiot's Guide web site or call 1-800-253-6476.