One Show, Multiple Dogs
Just as a one-man or one-woman show on Broadway can be fascinating, so can a one-dog show. But an ensemble cast can entertain you for hours. Not only that, but an ensemble cast can cover up mistakes should one of the dogs be having a bad day!
Multiple-dog routines or shows do require more training. The dogs must be able to work together with no animosity, and without being distracted by one another. Prior planning and training is very important with multiple-dog casts. But it's worth it when it all comes together.
One Owner and Multiple Dogs
Dog owners who own more than one dog can design trick routines or shows that use all the dogs, and find niches in the routine for each dog's strengths. For example, with my three, Dax is the serious one; she can learn things quickly and is very reliable. Riker is quite athletic, thinks the world is great fun, and performs with enthusiasm. Bashir is still young but already loves to jump and retrieve, so I'll be sure to use those skills in his future trick training.
Bet You Didn't Know
Introduce new tricks to each dog separately, allowing each the time needed to learn it well. Ask the dogs to do it together only after the new behaviors are well understood.
In addition to working with your dogs' strengths, you can also find a few tricks that both or all of your dogs can do. A spin done in unison is very nice, as are jumps and weaves performed together. But tricks with two dogs working together only look good when the dogs work at the same speed and with the same timing. I don't work Dax and Riker in unison because Dax moves quickly and Riker is slower and more methodical. Dax would finish a spin while Riker was only halfway through it!
Multiple Owners, Dogs, and Tricks
A show made up of several dog owners and their dogs, especially of a variety of breeds, ages, sizes, and colors, can be great fun. Each dog will train and perform differently, and that adds to the excitement for your audience.
Down, Boy!
It's important that in a group such as this, all the dogs get along. If one dog is uneasy, fearful, or aggressive, the whole group could be in trouble.
If your group has a number of different dog owners and dogs, you will need someone to take over organization of the performance. Although it might be amusing if six dogs did a spin one right after the other, it would be much more fun if each dog performed a different trick or trick routine. The orga-nizer, or choreographer, could co-ordinate each dog's abilities and trick performances, assign tricks, and arrange an order of performance.
Multiple Owners and Dogs of One Breed
Some one-breed clubs (such as Pug clubs or German Shepherd clubs) have put together demonstration groups that perform at breed club events, rescue organization fundraisers, and during therapy dog visits. A group of dogs, all of the same breed, with similar characteristics (both in looks and in behavior), can be very striking.
Although a group such as this might lack the variety a multiple-breed group might have, enthusiasts of the breed will be thrilled.
Drill Teams
Drill teams made up of multiple dogs and multiple owners can be awe-inspiring to watch. Years ago, when my husband and I had two German Shepherds, we formed a drill team with four other German Shepherd owners. We performed at dog shows, parades, nursing homes, and other special events and always received standing ovations.
Although teams of dogs of the same breed can be very attractive, teams can also be made up of dogs of a variety of breeds, or of mixed breeds. What's most important is the dogs have a similar working style and speed. Drill teams work in unison, so if one dog is slow, the other dogs must also work slowly.
Most drill teams perform obedience commands, including Heel, Sit, Stay, Down, Stand, and Come. During the Heel, they will make left, right, and about turns. They will walk a normal speed, walk slowly, and walk fast. Many drill teams include tricks, too, especially eye-catching ones like Weave through the legs, Heel on the right side, Follow Me, and other tricks that don't require any props and can be performed while moving.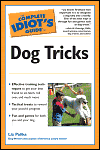 Excerpted from The Complete Idiot's Guide to Dog Tricks © 2005 by Liz Palika. All rights reserved including the right of reproduction in whole or in part in any form. Used by arrangement with Alpha Books, a member of Penguin Group (USA) Inc.
To order this book visit the Idiot's Guide web site or call 1-800-253-6476.