The Basics of Therapy Dog Work
Over twenty-five years ago, Dr. Norman Cousins said in his book Anatomy of an Illness that laughter helped him recover from a serious illness. Since then, many researchers have agreed that Dr. Cousins was right on target. Laughter boosts levels of endorphins, the body's natural painkillers, and suppresses levels of epinephrine, the stress hormone.
When a therapy dog walks into a nursing home or other facility, people smile. They appreciate the dog's attention and affection; they enjoy the dog owner's efforts to come and visit; and they appreciate the break in their daily routine. However, when the dog can do a few tricks (simple ones or elaborate), well, they laugh!
Bet You Didn't Know
Laughter is contagious; when you can laugh with your dog (but never at your dog), your audience will laugh, too!
Laughter is also good for the staff members of the facility you and your dog visit. Support staff, administration, and caregivers can all benefit from a visit by the dog. They appreciate the dog's affection, too, and can enjoy a few laughs when he performs some tricks.
Know Your Audience
As a therapy dog volunteer, it is vitally important to know the people you're visiting.
Day-care center: The children will be very young, some might or might not have been exposed to dogs, and there could be a lot of running and screaming. Simple tricks can be great amusements.
Kindergarten: The children will be learning to sit still, but have very short attention spans. Trick routines without storylines, or with simple, easy-to-follow storylines are fine.
Elementary school: There is a big difference in development between first grade and sixth grade; their reactions to you might vary. First graders might enjoy your visit, while sixth graders might not want to admit they still like dogs. Trick routines and shows are great here.
Hospital: People are usually injured or very ill. They are often focused inwardly, and might not want amusement. However, they might like some warmth and affection.
Skilled nursing: As with hospital patients, amusement might or might not be wanted; warmth and affection almost always is.
Retirement center and assisted living: Amusement is almost always welcomed, as is warmth and affection. Trick routines, shows, and individual tricks are welcomed at these facilities.
Hospice: Most residents welcome warmth and affection; staff members might enjoy some quiet, simple tricks.
These are obviously general guidelines; nothing is set in concrete, and there will always be exceptions. Listen to staff members and feel free to ask questions. After all, they know their people better than you do.
Keeping It Simple at First
If you're new to therapy dog work, keep the tricks simple in the beginning. Your dog has a lot to learn about his new vocation, and adding too many tricks or difficult tricks might overwhelm him.
Some good tricks for a beginning dog could include:
Sit Pretty: The dog could Sit Pretty when introduced to a roomful of people.
Shake: If the dog Shakes nicely (without scratching), he could shake hands with people when introduced to them.
Kisses: The dog should offer kisses only on command, not slather everyone with potentially unwanted slobbers.
Bow: When leaving the room, the dog could Bow.
Wave: When saying good-bye, the dog could Wave.
Spin right or left: The dog could demonstrate his knowledge of left and right.
Jump through the hoop: Ask two residents to hold a hoop and have your dog jump through it.
Down, Boy!
If you make a commitment to entertain at a facility, you must do it. If you don't show up, people will be very disappointed.
Some easy tricks, like Paws Up, work well in therapy dog work. The dog can do a Paws Up on the bedrail, side of the bed, arm of the wheelchair, or even the cross bar on a walker. Just protect the person being visited from rough paws, and brace the dog on slippery floors.
Tricks can also work well when incorporated into a visit as a part of the dog's behavior. For example, one of my visits might look like this:
I walk into the lobby of a retirement facility where several people are waiting for us. I say, "Good morning, everyone!"
When they answer me with a "Good morning," I turn to my dog Riker and say to him, quietly, "Riker, Sit Pretty!" and as he does, I tell the people, "Wow! Riker's happy to see you all, too!"
I walk up to an individual and greet him, "Mr. Rogers, you're looking well today." I then turn to Riker, "Riker, can you shake hands with Mr. Rogers?"
Later, after some conversation, as I leave Mr. Rogers, I tell Riker, "Riker, can you wave to Mr. Rogers?" as I tell Mr. Rogers we'll see him again next week.
Remember, a trick routine (as described previously) and a trick show are two different things. A trick show is best performed before a crowd rather than just one person. If you're performing a show for one person, and he or she is having a bad day, or is not enthusiastic, you won't be, either. However, a group of people will band together and get each other excited. If you normally visit people in the lobby or recreation room of a facility, you can perform something slightly different each visit, or you can do something on special occasions.
Troubleshooting
If you would like to do something but aren't quite sure what to do, talk to the activities director. She will be thrilled that you want to help and perhaps the two of you can come up with something.
You can also talk to the activities director or volunteer coordinator about special events. Many facilities regularly schedule events around holidays or they might be happy to arrange something at a time when nothing else is happening. Your trick routine or show could be a part of the holiday show, after the singers but before the main entertainment.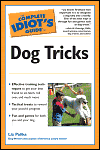 Excerpted from The Complete Idiot's Guide to Dog Tricks © 2005 by Liz Palika. All rights reserved including the right of reproduction in whole or in part in any form. Used by arrangement with Alpha Books, a member of Penguin Group (USA) Inc.
To order this book visit the Idiot's Guide web site or call 1-800-253-6476.