Special Events for Dogs
Unfortunately, living in a facility is never like living at home, and sometimes residents complain that life is just too institutionalized. You can't change that, but you can help the activities director add a little spice to the institutional life.
Easter Egg Hunt
Easter should be celebrated as a nondenominational holiday so as not to offend people of different beliefs. An Easter egg hunt is as nondenominational as a game could get.
The game is best done with a group of visiting therapy dogs. Have the dog owners get together and stuff several dozen plastic Easter eggs with dog treats. They can be carried into the facility in an Easter basket. While the dogs wait outside, the activities director can have staff members assist the residents in hiding the eggs in the lobby or recreation room. When all the eggs are hidden, the dogs can come in (on leash, of course) and find the eggs. The dog who finds the most eggs is presented with a special treat.
Down, Boy!
Always make sure all of the plastic eggs are found and accounted for; you don't want someone to step on or sit on one of them later.
This is a great event because the residents soon begin to cheer for the dogs, "There's one!" "Don't forget the one under the green chair!" At one Easter egg hunt, a frail, elderly lady took my dog's leash from me, saying, "You're moving too slow! He's not getting enough eggs!"
The group could also have some treats for the residents after the egg hunt is over. Some Easter chocolate (or sugar-free treats) is great, and perhaps some tea or coffee. A visit afterward gives everyone a chance to talk about it, laugh, and congratulate the winning dog.
Fourth of July Drill Team
If you have several dogs who are very good at their obedience training and owners who know their right from their left, a doggy drill team is quite impressive. If dogs and owners are in red, white, and blue, it can be very patriotic, especially if you have some patriotic music, too.
A drill routine doesn't have to be elaborate. All the dogs should be on leash, and all the dogs and owners should work in unison, keeping an eye on each other to keep together. Someone else can call the commands that have been previously practiced. (Someone who is not handling a dog needs to be the caller—but someone who works with the group, not someone from "outside.")
If you have a large group, you can do this outside where all the residents can see, such as a parking lot. Or if you just have three or four dogs and handlers, try it in the recreation room or lobby.
Before your show, hand each resident a small American flag to get them in the mood. Afterward, talk to those residents who might be veterans and invite them to share some of their experiences. You would be amazed at the heroes who might be in your audience.
Halloween
Halloween is made for therapy dogs! If you visit with a group of dogs, have all the dogs and owners come in costume. You can have the residents vote on their favorites, with the activities director tallying the votes. Categories could include scariest costume, best dog and owner costume, most original, most patriotic, and silliest. Add your own categories.
You should bring some dog treats to be handed out as prizes and perhaps some cookies and brownies to be shared with the residents after the judging is complete.
One year, we had seventy dogs at our Halloween party and over one hundred people. It was huge! People had a great time and talked about it for months afterward. People laughed, talked, shared memories, and petted dogs. Other than the mess we had to clean up afterward (it was a big party!), there was no downside to it.
Christmas
Christmas, like Easter, should be celebrated as a nondenominational holiday so as not to offend people of varying beliefs.
Many therapy dog groups use Christmas as an excuse to dress up their dogs. There will be dogs in Santa suits or reindeer antlers, and dog owners dressed as elves, Mrs. Santa, or Santa himself. Candy canes can be handed out to those who can have sugar, and holiday cards can be given to all.
Our therapy dog group each year recruits local elementary school teachers to have their classes make hand-made cards. We gather the cards, and then hand them out to the people we visit during the holidays.
If anyone in your group still has an instant camera (one that prints photos immediately), those photos make treasured gifts. Take a picture of a resident with a dog dressed in his holiday finery and you'll find that photo prominently displayed forever.
Local Community Events
If your local community has some special events, coordinate a visit to go along with it. Many of the people you visit might not be able to see the local squash parade or go to the garlic festival, so bring the party to them. It's not hard to make a themed visit; some special tricks, a few decorations, and some advance coordination with the activities director are all it takes.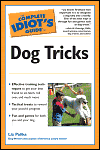 Excerpted from The Complete Idiot's Guide to Dog Tricks © 2005 by Liz Palika. All rights reserved including the right of reproduction in whole or in part in any form. Used by arrangement with Alpha Books, a member of Penguin Group (USA) Inc.
To order this book visit the Idiot's Guide web site or call 1-800-253-6476.