Dog Tricks: Canine Freestyle Dancing
Canine freestyle came into being in the 1990s. Several different people have taken credit for it, but no matter who first danced with his or her dog, this is a new sport with more and more people discovering it each year. Freestyle is a sport whose time has come.
The first thing you need to do is decide what you would like this dance routine to convey to your audience. Do you want to show off your dog's natural athleticism? His beauty? The teamwork the two of you share? Or the joy you take in music? Think about what you want your dance to show and keep that in mind as you choose your music and begin choreographing the steps of your dance.
Choosing Your Music
Before you put together a routine, you need to choose some music. You will want something with a strong beat that will help you and your dog move. A subtle beat is not good here; the beat must permeate your soul. The music can be instrumental or have vocals; that's your decision.
The rhythms of the music should suit your dog. If you have a quick, active, light-footed dog and use slower music with a heavy beat, your dog might not be able to find that beat. Or he might not be happy to move with it. On the other hand, a heavy-bodied, steady dog should not be asked to keep up with quick, light music. The music you choose, no matter what type, should have a rhythm that suits your dog's natural way of moving.
Sometimes the easiest way to choose your music is to grab your CDs and begin playing them. Clear the living room floor of all obstacles and begin moving to the music. Invite your dog to join you and see which music he reacts to most positively. Play some rock, country, jazz, and blues. Put on some classical music, too. Don't forget to listen to some show tunes. When you can narrow the list to four or five songs that you and your dog both like, set them aside. Play them again the next day and see which song really stands out.
Bet You Didn't Know
Don't limit yourself to just popular music. Instead, listen to a wide variety of different types and styles of music; you might find something totally different that is perfect for you and your dog.
Bet You Didn't Know
Choose a piece of music that you won't mind hearing over and over again.
Do think about the style or ethnicity of the music as you make your decision, because that could have some bearing on your costume should you decide to do demonstrations or competitions. If you choose a Scottish ballad, for example, you won't be wearing a Latin costume. Your choice of music will have to match your likes (and dislikes) for attire.
Beginning to Move
Put your music in the CD player, clear out the living room floor (or go out in the backyard), invite your dog to join you, and move to the music. What movements feel natural? You can use dance steps and moves that you've used before, perhaps from country line dancing, or square dancing, even ballroom dancing or a few polka steps. Let the beat of the music find you and just move.
Troubleshooting
If your dog hesitates to move to the music, ask him to do a trick or two that he really enjoys, then praise him. When he's doing something, get him excited and keep him moving.
As you move, encourage your dog to follow you, by moving your body, stretching out and moving your arms, smiling at your dog, and giving him verbal praise. When you do this, note what he is doing. Is he finding the beat of the music with his steps? Is his tail wagging? Praise him as he follows you, or as you follow him.
The goal in the beginning is to find some natural movements that suit the music you've chosen. After you both have loosened up and can move to the music, you can begin building a dance routine.
Some people hesitate to become involved in freestyle because they can't dance. "I have two left feet!" one friend said. Although freestyle is all about dancing, at the same time dancing isn't required. You can dance, but you don't have to. I know, that's a contradiction; so let me explain.
Freestyle requires both the dog and handler to move to the music. If that's dancing to you, super! However, specific dance steps that might be required for line dancing, ballet, or the tango are not required. So people who tend to step on a human partner's toes and who cannot tell their left from their right can participate in freestyle with no worries.
Moving to the Beat
There is a variety of movements you can include in your dance routine. Some come from obedience exercises, some from trick training, a few from human dance steps, and some even from equine dressage.
Obedience Heel: Dancing is all about moving together, and there is nothing like obedience heelwork to keep a team working together.
Trick Training Heel: You learned the trick , where your dog learned to Heel on the right side, too.
Back and Follow Me: The Back and Follow Me can easily be incorporated into a dance routine.
Changes of Pace: Slow steps, fast steps, and steps to the right or left can easily be worked into any routine.
Bet You Didn't Know
Teach your dog to walk slow or fast with you by simply changing your speed of walking and encouraging your dog (with your voice and training treats) to maintain his position with you.
Turns, Spins, and Circles: Dancing is all about moving, so incorporate movements and patterns that suit you, your dog, and the music.
Weaves: can easily be incorporated into a dance.
Tricks: Bow, Sit Pretty, Shake, Wave, and many other tricks can easily be incorporated into dance routines.
Jumps: Your dog can jump your leg or through your arms.
As you put together a routine, think about the space you will want to cover for your dance, or the space restrictions you might face. If you will be dancing in the recreation room of a nursing home for a therapy dog visit, you might not have much room. However, if you will eventually be competing in freestyle, you could have a forty-foot-by-fifty-foot ring in which to move. In either case, you want to cover the space equally instead of focusing on one particular area. Your audience, all of your audience, deserves to see both you and your dog as you dance.
There is normally a front or focal point in every space. In a nursing home, this could be where most of your audience is gathered. In a competition, this would be where the judges are seated. Your dance could begin and end facing this point. However, the rest of your dance should give your entire audience equal viewing time.
Bet You Didn't Know
As you plan your routine, don't limit yourself to just straight lines or right angles. Instead, think in diagonal lines, curves, and circles. Be creative.
As you begin, mark off a space like this and just move around it with your dog. Do some heelwork, a few spins, and a little weave. Go back and forth and find out what it feels like to move through this space. How big or how small is this area? This will help you as you begin to add steps and build your routine.
Your various moves should flow with and suit the beat or rhythm of the music. The moves should flow easily from one to the next. For example, here are some potential movements for a simple first routine:
The music begins with your dog standing by your side, looking at you.
You both walk forward together a couple of steps.
Your dog then moves to your right side and you continue forward another two steps.
You then back up and your dog follows you.
You stop and your dog circles you.
Throughout this, you are both swaying to the music, and you are moving your arms to the music and your dog's tail is wagging.
You circle to the right as your dog weaves through your legs.
You turn around and your dog follows you.
You circle to the left as your dog weaves back the other direction.
Visualize each movement following the one before it, flowing nicely with the music. After all, you're dancing!
When you feel more comfortable, add some other moves. You can perform some dance steps from dances you know, such as line dancing, square dancing, or even ballet. Encourage your dog to follow you and give him some commands, such as Bow, Weave, or Wave.
You can also teach him some entirely new things just for your dancing. If there is a local horse show, go watch the dressage; it's absolutely amazing. You can borrow some movements from dressage for your dog. Use the training skills you've learned in this book: break the behavior into small behavior steps, reinforce each step, and don't move on to the next one until the first is learned.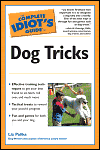 Excerpted from The Complete Idiot's Guide to Dog Tricks © 2005 by Liz Palika. All rights reserved including the right of reproduction in whole or in part in any form. Used by arrangement with Alpha Books, a member of Penguin Group (USA) Inc.
To order this book visit the Idiot's Guide web site or call 1-800-253-6476.