Can Your Dog Be a Star?
My dog, Dax, has appeared in a movie. She wasn't the star, but she didn't end up on the cutting room floor, either. She did a great job, got compliments from the director, and was much more professional than many of the human actors.
Dax appeared in this movie because a friend of ours knew she was well trained and liked to retrieve. Our friend (who is also a dog trainer) had been contacted by a casting agent. The director of the movie needed a dog who would retrieve a baseball during a baseball game, and who could also participate in several other scenes in the movie. The casting agent also wanted a dog who looked "like the dog next door." Dax, a black tri-colored Australian Shepherd, does not look exotic and weighs about forty pounds, so can definitely pass for the dog next door!
Bet You Didn't Know
I was able to train and work Dax myself because I am a known dog trainer. Some dogs in movies are trained and worked by professional dog trainers even when those dogs are privately owned.
I was faxed a copy of the scenes that Dax would be in, including the directions for her movements (what she would need to do) and the dates, times, and addresses where she had to report. The next two weeks were spent training Dax for her scenes. She already knew everything that was going to be asked of her (Sit, Down, Stay, Heel, Retrieve, and Come) but she would be doing all of these things at a distance from me, so I wanted to work on hand signals from about twenty feet away.
The movie was about a young man who enlisted in the military and went to war. Dax played his dog at home prior to enlisting, so she was only in the first few scenes. The movie opened with a dirt lot baseball game. Dax was sitting by the sidelines with the young man's girlfriend. The game was tied, the young man's team was in the field, and the opposing team had people on base. It looked like the hero's team was going to lose when the opposing team hit the ball that would bring in the winning run. The infielders missed the ball and it headed to right field. Dax bolted from the girlfriend and grabbed the ball. Running as hard as she could, Dax carried the ball to home plate where she tagged out the runner who was trying to win the game. It was a great scene!
In other scenes, Dax was not the center of attention, but instead, simply played the male star's pet dog. She followed him around, sat next to him, and comforted his girlfriend when he enlisted in the military and left home.
Any number of dogs could have done what Dax did, and that's the way this business works. To break into the business, you will have to promote your dog so people know who he is, what he looks like, and what his skills are. You'll want to decide whether you want to work with an agent. And then you will train your dog, train him again, and train him some more! But most of all, you will have to work hard and you'll need lots of good luck.
Looking Good!
When a dog is needed for a part, either in a commercial, a television show, or a movie, the people in charge of casting might have some specific directions as to what kind of dog is needed. For example, for Dax's part in the movie, they wanted a medium-sized "dog next door." They didn't want a dog that looked exotic, or expensive, or too different. But that was just this movie; other times the book upon which the movie was based might have stated the breed of dog, and the casting people will try to match that. Businesses contracting the making of a commercial might have instructions as to the breed or mixture of breeds. No breed or mixture of breeds is out of the question. It simply depends upon the needs and wants of those in charge.
Other times, the director might say, "I'll know the right dog when I see him." In those situations, dogs of every size, shape, color, and breed (or mixtures thereof) may apply.
Down, Boy!
Dogs facing a health challenge, including skin or coat disorders, should not apply until they are healthy again.
All dogs applying for a part or position should be well groomed. That means clean, free of parasites of any kind, and brushed and combed. Fancy haircuts are usually not recommended unless specifically requested. Hair dressings, hair pieces, and costumes are not usually recommended, either, unless requested.
Behaving Well
The cutest dog in the world will not get a job unless he's well behaved. Time is money, and no one will be willing to give your dog excess time to perform. Training needs to be done ahead of time, especially basic obedience training, as well as the training needed for the performance.
Dax was very well trained prior to her movie part; however, when we got the directions for her part, I spent two weeks working with her so she knew exactly what she needed to do for each command. As a result, she needed only one or two takes for her shots. The big baseball game shot she did on her first try. Although the director did a few more shots for the human actors (and she re-peated her performance each time), he was thrilled with what she did and how she did it.
The basic obedience commands are a necessity for all performers, not just for their work in front of the camera but also for good behavior behind the scenes. Tricks are always good, too, and might give you an edge in getting a part. Just make sure you can direct your dog from a distance so you can be off camera when he performs.
Your dog must also be well socialized to a variety of people of all sizes, ethnicities, shapes, and ages. You can't risk having your dog react poorly because there's a small child on the set or a person of a different heritage.
Bet You Didn't Know
Don't let your dog get in the habit of looking or sniffing at cameras. Rarely is the dog asked to look directly at a camera, so this can be bad habit. Instead, work on the Watch Me and have him look at you even when someone else has a camera pointed at him.
Make sure, too, that prior to applying for a job, your dog is used to different places. Take him to the hardware store and pet store, walk him around the boats at the harbor, and let him hear motorcycles, garbage trucks, and vacuum cleaners. Make sure he won't jump when bright lights flash.
Tricks Your Dog Can Use
Many of the tricks taught in this book can be used in print ads, commercials, television, and movies. The most important are tricks that can be incorporated into a storyline and those that show emotion. Bow, Say Your Prayers, Belly Up, Spin, Crawl, and Retrieve are all good ones.
What's important is to develop some tricks that your dog will do reliably, every time you ask, no matter what the distractions are. When those tricks are very reliable, you can then add them to your dog's resumé.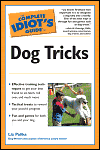 Excerpted from The Complete Idiot's Guide to Dog Tricks © 2005 by Liz Palika. All rights reserved including the right of reproduction in whole or in part in any form. Used by arrangement with Alpha Books, a member of Penguin Group (USA) Inc.
To order this book visit the Idiot's Guide web site or call 1-800-253-6476.