Choosing the Right Dog for You
Social Butterfly or One-Man Dog?
One of the best reasons to choose a purebred dog is that you have a pretty good idea what to expect in terms of the dog's temperament. Let's face it—temperament (what people sometimes call "disposition") is essential in our day-to-day life with a companion. That's another good reason to buy from a responsible breeder who considers temperament to be as important as physical health. Responsible breeders don't knowingly breed dogs with poor temperaments, and they pay attention to variations within their litters. A good breeder will want you to have a dog whose personality meshes with yours.
It's important to remember, though, that each individual dog is exactly that—an individual. Golden Retrievers are not supposed to be quarrelsome or show hostility toward other dogs or people under normal circumstances, but I've seen the occasional Golden Retriever attack another dog. The Australian Shepherd is supposed to be "reserved in initial meetings," but I know a few who are regular social butterflies.
If you're drawn to breeds that tend to be one-person or one-family dogs, be sure you understand what that means for day-to-day living in your circumstances. If you have lots of people, particularly children, in and out of your home, a standoffish, protective dog may not be your best choice for a pet.
Obedient Dog or Independent Thinker?
Doggerel
Biddability means a dog's will to please. A biddable dog is one that wants to do as you bid—he wants to please you.
A lot of people think they want an intelligent dog. If that's what you think, please be sure you understand a few things about canine intelligence. First, smart dogs are not necessarily obedient dogs. They're not necessarily disobedient, either. In short, there's just no correlation between intelligence and biddability.
Some breeds are easy to train, and some are difficult. In general, breeds that were designed to work independently of their handlers tend to need more patient and persistent training, while breeds developed to work closely with people tend to be easier to train. Terriers, hounds, and the northern breeds are notoriously difficult to train because they're smart and independent. Sporting and herding breeds tend to be easier to train, although their high energy also makes them a handful, especially while they're young. Toys and Nonsporting breeds vary a lot in trainability.
If you don't have the time and patience to train a puppy, consider an older dog from a rescue program or breeder. If you do have time for a puppy but not a lot of dog-training experience, then select a breed that is generally more easily trained.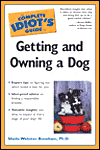 Excerpted from The Complete Idiot's Guide to Getting and Owning a Dog © 2003 by Sheila Webster Boneham, Ph.D. All rights reserved including the right of reproduction in whole or in part in any form. Used by arrangement with Alpha Books, a member of Penguin Group (USA) Inc.
To order this book visit Amazon's web site or call 1-800-253-6476.