Finding a Responsible Breeder
Making Contact
Each breeder you contact probably has several dogs to clean up after, groom, train, exercise, play with, and cuddle. She probably has a family, friends, work, and other obligations. For a responsible hobby breeder, breeding is exactly that—a hobby. It's not a business in the conventional sense, and she's not "on call" for you 24/7. You'll be much better received if you call at a reasonable hour, and understand if it's not a good time. Don't expect a breeder to call you back long distance at her expense. She may get a lot of calls, and the cost of returning them adds up. Either ask her to call back collect, or ask when you should call again.
Have questions ready, but hold a conversation, not an interrogation. If you don't understand an answer, ask for an explanation. Remember, she probably thinks, breathes, and talks dog all the time, and she may forget that you aren't fluent in the jargon of the dog world. If you feel uncomfortable with someone, trust your instincts. Thank her for her time, and move on to the next name on your list.
What should you ask? Start with general information. Find out how long the breeder has been in this breed and how many litters she's bred. Ask if she has any other breeds. Responsible breeders have one or two breeds, occasionally three. Don't write off a breeder just because she's new if she appears to be well informed and to have good quality dogs. By the same token, don't automatically equate longevity with knowledge. I know people who loudly proclaim their many years in their breeds, but who have accomplished nothing and apparently learned about the same.
Ask the breeder what her goals are, both for her breeding program and for the litter you're considering. Does she want to produce winning show dogs or obedience and agility stars? Or maybe she's striving for top-notch field trial or herding dogs, or all-around, versatile dogs that will perform well in several areas. She may not even be interested in competition, but rather in producing fine hunting companions or working dogs. These are all worthy goals. If she doesn't have any goals for her breeding program, or she bred the litter to supplement her income, or because Fluffy is so sweet, run the other way.
Ask about the dogs' bloodlines. Don't worry if the names don't mean much. The point is that serious breeders can rattle off pedigrees from memory, and they know lots about the ancestors of their puppies. What you're checking with this question is not how impressive the dogs are, but how impressive the breeders' knowledge of them is.
Grrrrowls
Unfortunately, not everyone who sells puppies is honest. Be sure to see proof of claims made by any breeder. Responsible breeders are happy to show you registration papers, health clearances, title certificates, pedigrees, and other paperwork on the parents of their litters and on the puppies where appropriate.
Finally, if you feel good so far about this person and her dogs, ask for names, telephone numbers, and e-mail addresses of people who have purchased pups from the breeder. She should be willing to give you lots of them. If she's new to breeding, ask for referrals to people who know her relationship to dogs; her veterinarian, dog club contacts, or training contacts might work.
If all this seems like overkill, remember two things. First, the pup you're going to buy will be with you a long time—a decade or more. You'll be a lot happier with him if he's sound of mind and body, and a good representative of his breed. Second, the breeder should be someone you trust for the life of your dog. She should be someone you can come to with questions and someone who will care when you brag about the dog. She should be a potential friend.
Visiting Breeders
Now, you've zeroed in on one or two breeders. It's time to meet them and their dogs. You should meet as many of your potential puppy's adult relatives as feasible. You should be able to meet the dam of the litter. Puppy care is a big job for doggy moms, so don't expect her to look her best. She may have had her belly hair trimmed to make it easier for the puppies to nurse, and she's probably covered with puppy spit. Pay attention to her temperament, but remember that it is normal for bitches in many breeds to be protective of their pups.
Doggerel
Dam (not "dame") refers to a dog's mother. Sire (not "sir") refers to the father.
If the sire is on the property, you should be able to meet him, too. However, often the sire is not owned by the breeder. Serious breeders use stud dogs owned by other people in order to bring new blood or traits into their kennels. The breeder should be able to show you pictures of him as well as copies of his health clearances, and she should be able to tell you why she chose this particular dog. If the reason is that a friend owns him or he's close at hand and her bitch was in heat, that's a sign that he wasn't chosen carefully. Stud dogs should be selected because they will contribute certain positive characteristics that the breeder wants in her pups.
If you don't like the parents, don't buy the puppy. Puppies are not little copies of their parents, but they do inherit many of their traits and will probably grow up to be a lot like one or the other, or a combination of the two—just like kids do.
Look around. The facilities should be clean, and clear of potential dangers. The dogs should look healthy, with clear eyes and trimmed toenails. They should be reasonably clean and well groomed. Fresh water should be available, and the dogs should have room to move around and play. How friendly the dogs are depends on their breed, but they should accept you in the presence of their breeder.
Grrrrowls
It's easy to transmit deadly infectious disease and parasites from one kennel to another, even if everything looks clean. Never visit two kennels in a row without going home, showering, and changing clothes, including your shoes.
The breeder should know every dog by name. Serious, responsible breeders do what they do because they love dogs. Love should be obvious in their interaction with their dogs. The breeder should know each puppy as an individual. She should know which is the dominant pup of the litter, and which is the sweetie pie. She should know the complainer (every litter has one), the troublemaker, and the comedian. If she hasn't spent enough time with the pups to know this much about them, then the puppies haven't spent enough time with her to be well socialized. Besides, if she cares so little about these wonderful young creatures in her care, how much do you think she'll care that you get the right one?
If you don't feel good about what you see at the breeder's place, move on. You can do better.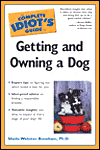 Excerpted from The Complete Idiot's Guide to Getting and Owning a Dog © 2003 by Sheila Webster Boneham, Ph.D. All rights reserved including the right of reproduction in whole or in part in any form. Used by arrangement with Alpha Books, a member of Penguin Group (USA) Inc.
To order this book visit Amazon's web site or call 1-800-253-6476.